Outcome
I would like to scroll through my daily notes, as if they were one long document.
Where this comes from
This feature request is inspired by Roam's daily notes page. I really like that in the daily notes view, one can just scroll forward or back to see previous notes. It's easy and quick to just quickly scroll over the previous week to remind myself of what was happening, or check if anything fell through the cracks.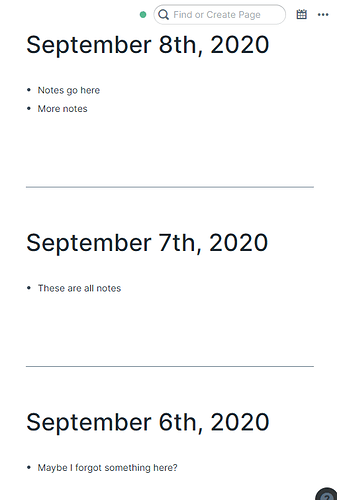 Daily notes in Roam
I have daily notes in Obsidian, and I can navigate by clicking through each one or by keyboard shortcut, but I can't just see a nice flow of my notes going back in time


Daily notes in Obsidian
Proposed Implementation
I think this use case could be solved in quite a nice, general way by allowing a folder of notes to be opened as one pane. Imagine if Ctrl-Clicking a folder opened a pane where all the notes inside were concatenated together with titles between them. Perhaps a folder could have a property "Always open as folder" so that clicking an individual file inside the folder would just jump to that file's scroll position in the concatenated note.
Other uses for this feature
This implementation could be useful in other places: I sometimes have done writing where I like to keep each section/chapter in a separate markdown file so they can be linked to individually. This would let me view/edit the document as a whole if needed.