Use case or problem
I would like:
Multiple editor windows open at once, because I don't always finish processing note 1, before needing to write note 2
Ability to open quickly e.g. 'win key + n' (since I want to minimise the time from thinking something to capturing it)
Ability to have a minimal view for the quick note (to minimise distractions)
Ability to expand to full featured view (to access another feature e.g. search)
Proposed solution
Approach such as the attached, which Onenote has.
This shows 2 notes, opened with the shortcut 'win key + n', both with a minimal view, and full featured view.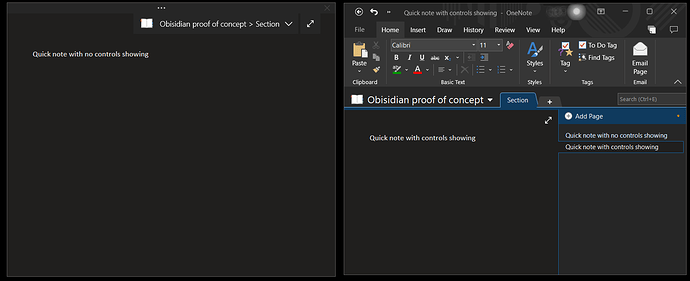 Related feature requests
Floating \ Pop-out \ Multiple windows of the same vault (the problem is that this is read only)
Open the same vault/note in a separate window (this is only a partial solution to my above request)
Allow a second instance of the same vault (this was merged into the post above)