Updates
2023/10/14
It seems clear to me now that 10000 searchable items will cause this behavior (according to White noise and my testing.)
This includes files (attachments included), broken links and aliases.
For further information, see Options to control the Quick Switcher algorithm above 10'000 files - Feature requests - Obsidian Forum
2023/10/9
I deleted some useless files, and the problem went away (for now).
My current file count is 7538, with 661 broken links.
Steps to reproduce
Start a large vault
(My vault has 7700+ files, about half of them images. Total size is 2.13 GB)
(Also reproduced in sandbox vault by adding10k files, 4.2 GB)
create a file called "test 123" (with a space)
type "[[test12" within the file (with no space)
(I didn't just do this for the sake of stress testing. All the files are my real notes, created in roughly 1 year. So this is causing real trouble for me)
Yes
Expected result
Wiki link autocomplete should find the file.
Actual result
Instead, "no match found" is shown.
Environment
SYSTEM INFO:
Obsidian version: v1.4.14
Installer version: v1.4.12
Operating system: Windows 10 Home 10.0.22621
Login status: logged in
Catalyst license: none
Insider build toggle: off
Live preview: on
Legacy editor: off
Base theme: dark
Community theme: none
Snippets enabled: 0
Restricted mode: on
RECOMMENDATIONS:
none
---
Additional information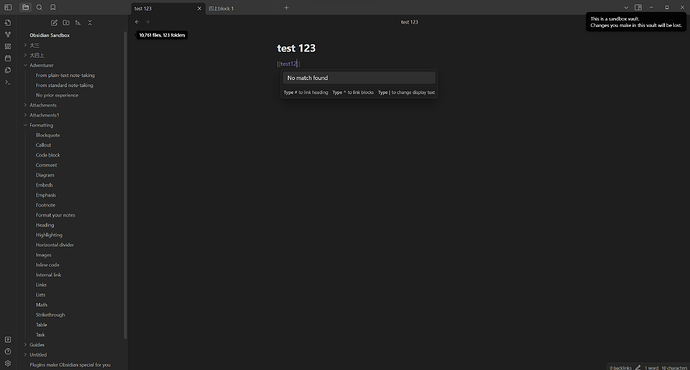 I did find a similar report, but it's not submitted in the bug category:
Fuzzy-Search-Autocompletion of Wiki-Links fails if spaces are involved - Help - Obsidian Forum
A similar Feature request concerning quick switcher:
Options to control the Quick Switcher algorithm above 10'000 files - Feature requests - Obsidian Forum