Currently, folded lines don't count as "one line" for the purpose of swapping them up/down.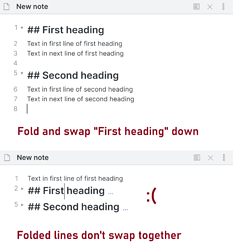 Test it out:
Fold a heading
Use the hotkey (set in Settings --> Hotkeys) to swap line up/down
–> The heading line will move but all the lines underneath the heading will stay where they are
---
It would be great to have folded lines swap together!
Using only the keyboard (hotkey for Toggle fold on current line and Swap line up/down) this would allow for quick rearranging of lists or paragraphs!