I would appreciate some help and discussion regarding the extent to which I use Obsidian. There has been a similar topic here, but in my view the discussions on pros/cons has not been explored enough.
Currently, I have a primary 4TB NVMe drive, and I organize everything using a form of PARA structure, as shown in the screenshot. The vault is the first high level folder on that main drive.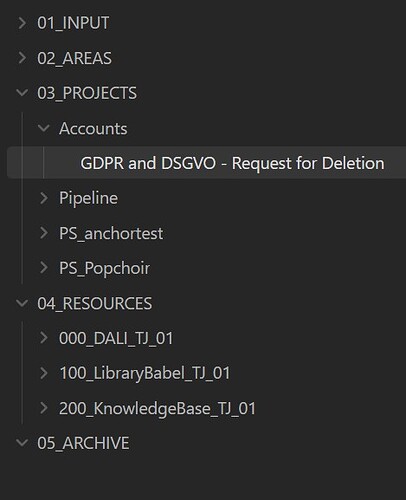 AFAIK, Obsidian is not really intended to function as a file browser, and I don't plan to use it in that way, I have another tool for that. However, I am using notes with tags, backlinks throughout this PARA structure with my areas and files, create notes during projects or study sessions, and reference various files / file types. I like dropping a note or canvas in whatever context I am currently in. I have a separate PKM folder with a Zettelkasten-like approach under 04_RESOURCES. Generally, I really like this "high-level approach", but I am concerned with cons like performance problems and other things I am not aware of.
An alternative approach could be replicating the file structure within a separate vault, but I believe this would cause annoyances in maintaining consistency.
What are Pros/Cons to using Obsidian as a high level folder?
I consider setting up Git and/or Obsidian sync, which means I'll need to restrict syncing to notes only/specific folders. Some of my projects involve considerable disk space, exceeding 1TB, with numerous EXR files, and so on. I am already using git for some project types, so I am also concerned about potential nesting problems here as well.
Looking forward to your input