How to install plugins?
Installation instructions for 0.9.8+
If the author has registered their plugins with the Obsidian devs, you can find the plugins in Settings > Third-party plugin > Community plugins.
Note that the manual installation for 0.9.7 continues to work, so your plugins will still be usable even if the author hasn't registered them for the plugin market.
Installation instructions for 0.9.7 (Manual)
Notes:
The plugin folder may not exist, so you'll need to create it.
my-plugin is a folder that matches the name of the plugin.

Developers will usually provide their releases in a zip folder, which you only need to extract in the plugin folder of the previous step. As an example, my notes vault has the following plugins:


Releases by developers are not standardized at the moment, and sometmes you'll need to do a bit more work, e.g. create the plugin-id folder and add ONLY the following files:

main.js
manifest.json
styles.css (optional if the plugin is not altering Obsidian's appearance).

For example:

Where do I find plugins?
We're trying to keep a running list of plugins in Meta - Alpha Plugin List (0.9.7+), but as it might be difficult to keep this list updated on the long-run, you might also want to check the obsidian-md and obsidian-plugin topics in GitHub.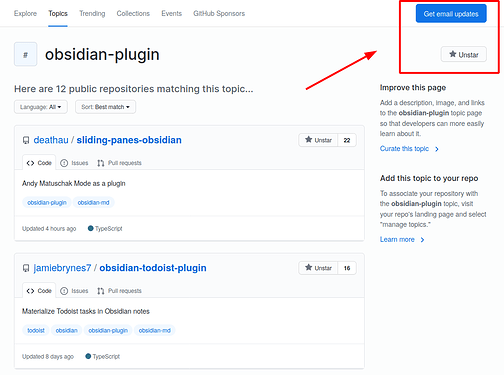 Here on the forum, you can try filtering posts in #share-showcase with the plugin-release tag.
How to receive plugin updates?
0.9.8+
The community plugins page should allow you to update and uninstall plugins.
Manually (0.9.7)
As @death.au shared in discord, please keep the following in mind:
The plugin system is still very new and there are plans to introduce a plugin directory to handle all that in future. So I'm hesitant to try writing an auto-updater anly to have it rendered obsolete shortly after. Unfortunately it's just one of the prices you pay for early access beta software.
That being said, one way you can get notified if there are new releases to a specific plugin is to subscribe to the repository using GitHub's "watch" menu: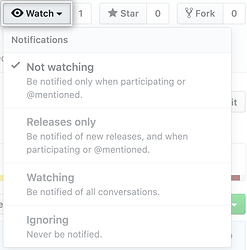 I want to develop a plugin, where do I start?
Related: How to get started with developing a custom Plugin?