Tired of ~~ striking out your text? Why on earth would you want ## h2s to be bigger than #### h4s? Your #tags getting a little round in the mid-section? Why do those [[links]] have a color anyway? Who wants that? Well, this snippet is for you. I present to you:
MarkGone
Like Dignam in The Departed, MarkGone is a ghost in the wind waiting for you when come home with the groceries. No, it's not that. Just kidding. I imagine it sporting a slick track-suit though.
A few folks:
asked recently about a bare-bones editor mode devoid of any and all Markdown and editor styling. This is an attempt of that.
Put together using the default theme, but looks mostly alright with the few other themes I checked
Switch to Source mode for MarkGone™©® Experience℠
A few variables are at the top in body to change as you'd like
%%comments%% are untouched, but we could do something silly with them if we wanted to…
Safety not guaranteed
Source mode: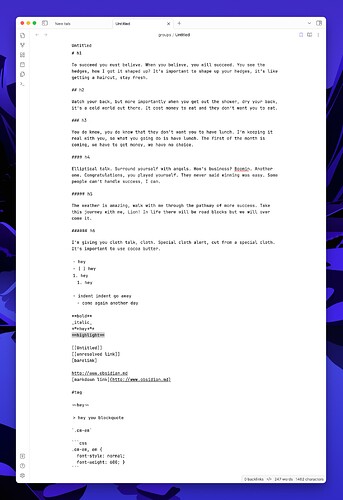 Live Preview: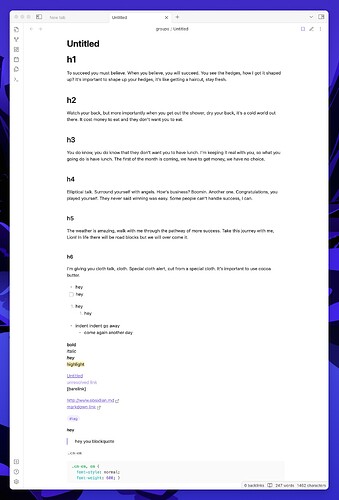 body {
    --heading-size: inherit;
    --heading-line-height: 1em;  
    --list-indent-s: 1em;
    --font-weight-s: 400; }

/*- monospace font for source mode -*/
.markdown-source-view:not(.is-live-preview) .cm-scroller {
    --font-text: 'JetBrains Mono', var(--font-monospace); }

/*- inline title -*/
.markdown-source-view:not(.is-live-preview) .inline-title {
    font-size: inherit;
    font-weight: var(--font-weight-s); }

/*- all headings: size -----------------------------------------------*/
.markdown-source-view:not(.is-live-preview) .HyperMD-header {
    font-size: var(--heading-size); }

/*- all headings: font weight -*/
.markdown-source-view:not(.is-live-preview) .HyperMD-header {
    font-weight: var(--font-weight-s); }

/*- all headings: line height -*/
.markdown-source-view:not(.is-live-preview) .HyperMD-header {
    line-height: var(--heading-line-height); }

/*- lists -----------------------------------------------*/
/* indents within lists */
.markdown-source-view:not(.is-live-preview) .cm-line.HyperMD-list-line {
    tab-size: var(--list-indent-s); }

/*- adjust ul-ol indents - don't use this, really. negative margins are BAD! -*/
/*.markdown-source-view:not(.is-live-preview) .cm-content > .cm-line.HyperMD-list-line {
    margin-left: -0.15em !important; }

/*- markdown elements -----------------------------------------------*/
.markdown-source-view:not(.is-live-preview) :is(.cm-formatting-header, .cm-formatting-list, .cm-formatting-list-ol, .cm-formatting-link, .cm-math) {
    color: var(--text-normal); 
    font-size: inherit; } 

/*- bold/italic/bold+italic font weight -*/
.markdown-source-view:not(.is-live-preview) :is(.cm-strong, .cm-em, .cm-em.cm-strong) {
    font-weight: var(--font-weight-s); }

/*- no italic style -*/
.markdown-source-view:not(.is-live-preview) :is(.cm-em, .cm-strong, .cm-em.cm-strong) {
    font-style: normal; }

/*- ==highlight== color -*/
.markdown-source-view:not(.is-live-preview) .cm-highlight {
    background-color: transparent; /* <rgb(211,211,211)> for a color */
    font-weight: var(--font-weight-s); }

/*- strikethrough -*/
.markdown-source-view:not(.is-live-preview) .cm-strikethrough {
    text-decoration: none; }

/*- internal links ----------------------------------------------*/
.markdown-source-view:not(.is-live-preview) :is(.cm-hmd-internal-link, .cm-hmd-internal-link:hover, .cm-hmd-barelink) {
    color: var(--text-normal);
    font-weight: var(--font-weight-s);
    text-decoration: none;  }

/*- external links ----------------------------------------------*/
.markdown-source-view:not(.is-live-preview) :is(.cm-link, .cm-link:hover, .cm-url, .cm-url:hover) {
    color: var(--text-normal);
    font-weight: var(--font-weight-s);
    text-decoration: none; }

/*- blockquotes ----------------------------------------------*/
.markdown-source-view:not(.is-live-preview) .cm-quote {
    color: var(--text-normal); }

/*- tags --------------------------------------------------------*/
.markdown-source-view:not(.is-live-preview) .cm-hashtag {
    color: var(--text-normal);
    font-size: inherit; }

.markdown-source-view:not(.is-live-preview) :is(.cm-hashtag.cm-hashtag-begin, .cm-hashtag.cm-hashtag-end) {
    background-color: inherit;
    padding-right: 0em;
    padding-left: 0em; }

/*- code --------------------------------------------------------*/
.markdown-source-view:not(.is-live-preview) .cm-inline-code {
    color: inherit;
    background-color: inherit;
    font-size: inherit;
    font-family: inherit; }

.markdown-source-view.mod-cm6:not(.is-live-preview) .cm-line.HyperMD-codeblock {
    padding-left: 0px;
    background-color: transparent;
    font-size: inherit;
    font-family: inherit; }

.markdown-source-view:not(.is-live-preview) .HyperMD-codeblock > * {
    color: var(--text-normal); }

/*- remove cm-math styling -*/
.markdown-source-view:not(.is-live-preview) :is(.cm-math, .hmd-fold-math-placeholder) {
    font-size: inherit; 
    font-style: normal; }

/*--------------------------------------------------------------------------------*/
/*- hide collapse icon -*/
.markdown-source-view:not(.is-live-preview) .cm-fold-indicator {
    display: none; }


/*- hide indentation guides -*/
.markdown-source-view:not(.is-live-preview) .cm-indent::before {
    display: none;
}

/*- hide "open link" popover on mobile -*/
.markdown-source-view:not(.is-live-preview) .follow-link-popover {
    display: none; }

inspiration for the silly intro from: