Use case or problem
When there is a caret placed on large screen (4k, 43inch), then I do not know how to find it when e.g. switching from another app. I can just click elsewhere and hope that the sentence/idea in previous location was correctly finished. Also search highlights just the matched string which is sometimes narrow and hard to spot visually on big screen.
Proposed solution
I want to see position of caret easily by:
[ ] showing vertical guide. That is useful also for aligning tables,… in monospaced font or to supplement/complement indentation guides
[ ] showing horizontal guide for wrapped part of current line
✓ Highlight current line in editor mode.
Highlighting of instances of searched text should not be covered by it.
(→solution)
[ ] Showing line number and column number e.g. in status bar. That is useful when navigating to the same position in another application.
It works e.g. in EmEditor: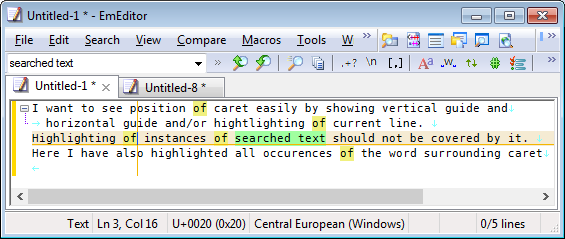 Perhaps it could be done just by CSS, I do not know.
Current workaround
Edit: Solution given by @mano ↓ solved the most intrusive issue. Thanks.
Related request