Steps to reproduce
Have only one note opened
Do a "split down", either via the command palette or keyboard shortcut
Expected result
The focus should stay on the panel that was initially focused (as discussed here and here)
Actual result
The focus is lost; I cannot type in either of the two panels without clicking on them. If I press esc, the focus is moved to the expected panel.
Additional information
Here is a short video of it in action. I have selected the text to show that the focus is lost (the selection would be kept if the focus wasn't lost).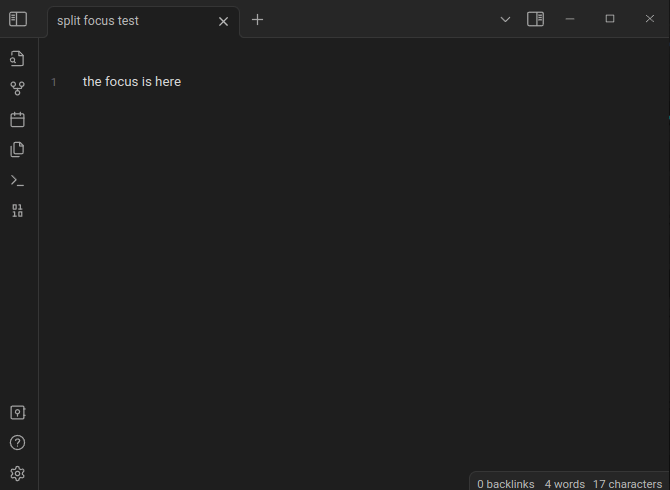 This seems to happen only in certain panel configurations. For example, if I already have done a split down, it doesn't happen the second time: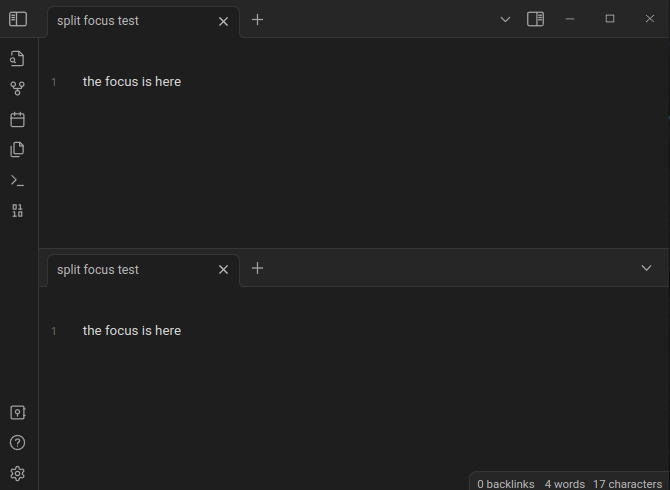 Other panel layouts where I was able to reproduce the incorrect behavior:
two panels in a vertical layout, split right on either of them
two panels in a horizontal layout, split down on either of them
From what I recall, this didn't happen before 1.0.0, although I'm not 100% sure.
Environment
Operating system: Linux, openSUSE Tumbleweed
SYSTEM INFO:
	Obsidian version: v1.0.3
	Installer version: v1.0.0
	Operating system: #1 SMP PREEMPT_DYNAMIC Thu Oct 27 05:14:41 UTC 2022 (7359656) 6.0.5-1-default
	Login status: logged in
	Catalyst license: insider
	Insider build toggle: off
	Live preview: on
	Legacy editor: off
	Base theme: dark
	Community theme: none
	Snippets enabled: 0
	Restricted mode: on

RECOMMENDATIONS:
	none