I'm wondering if it's possible to create a Dataviewjs script that would be able to output a markdown table, so that the resulting markdown file could be run through Pandoc and styled easily in a word processor without a lot of CSS tweaking.
It looks like @Christian has a good approach in his script which puts a "copy" button at the top of a dataviewjs table which then copies the list of file names to the clipboard. It's way beyond my scripting capabilities to customize the button part of that script to produce a markdown table (although I was able to script my own query to replace his example), but I wonder if it's possible–this approach seems like it might be useful to others.
My use case here is creating a syllabus as a teacher. I have grouped my tables by "Weeks", then sorted by "days" to end up with this: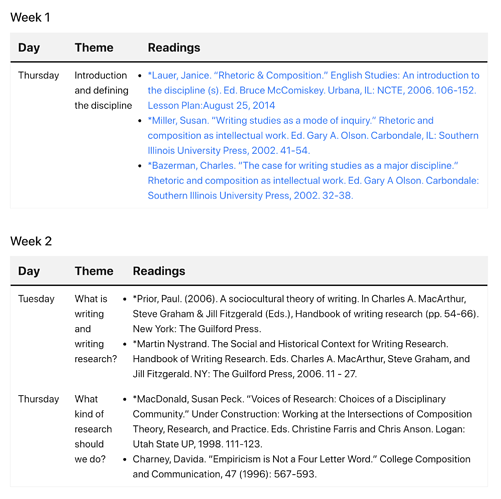 Pretty good! But now the question is getting this into a form to share with students. I can export to PDF, but it's not quite right and I'd rather tweak in a word processor than via CSS. I'm pretty familiar with using a docx reference file in Pandoc, so that's my thinking right now, although I'd certainly be interested in other folks' ideas along these lines.