Obsidian 0.12.4 (Installer 0.12.3)
MacOS 11.4
Continuation from Data loss - zero byte .md file in vault
This is still happening to me. I'm currently only using Obsidian on a single Mac. As suggested by @WhiteNoise in the last post before that thread was locked, I reduced my recovery snapshot time to 2min. This helps in the sense that there might be more recovery points, but does not address the underlying problem.
I don't have 100% repro steps for this nor do I think I will be able to produce them. I'm more than willing to put in some time and do any sort of testing but I can't sit here and bang the keys like a monkey until this happens. All I know is it is happening and it's very unnerving for a "second brain" app to be vaporizing information like this.
In the screenshot below from a few minutes ago, you can see the history of the snapshots as I was working in this note, every 2-3 min. All of a sudden poof there's a 0 byte version saved.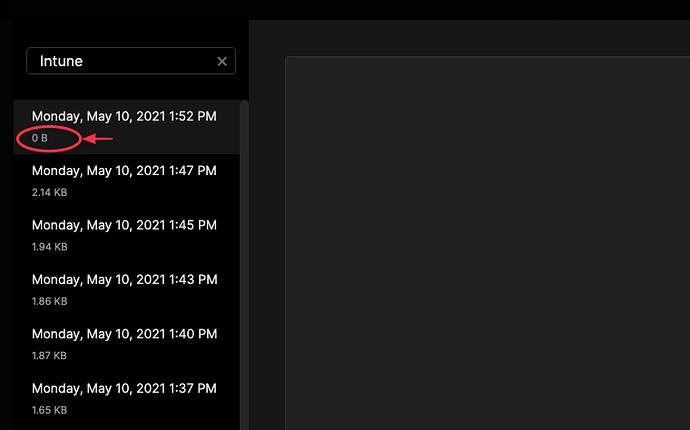 I understand the default position is to blame:
Plugins
The OS / filesystem.
I use very few plugins and they are all widely-used ones like Templater and Advanced Tables. Also, this data loss is not happening while I'm editing the note, it's happening during either quit or launch of the app - because in this case I was only working on this particular note over the course of a few hours. I had recently quit Obsidian and was just launching it to resume work when I saw the note was blank.
Where is the logic in whatever routine sees a 2.14 KB file suddenly become 0 bytes and decide "yeah that must be right, let's keep the 0 byte version". Without any notice/log/user confirmation? It makes no sense to me. Even if this somehow IS due to a filesystem bug in macOS, there needs to be some other warning or log produced, otherwise this is simply impossible to track down.
Honestly I am stuck. I'm a huge fan of Obsidian but I am at a loss of how to proceed. What do you suggest I do?