The writing experience in Obsidian keeps getting better, but I really like writing in Ulysses: it's beautiful, syncs fast between iPad and Mac, has great grammar and spelling support, enables merging/splitting notes, offers great export options, and it can be set to work with an external folder of Markdown files, such as an Obsidian vault. Unfortunately, it doesn't play well with [[Wikilinks]]-syntax. One day, I hope that Ulysses will modify its quirky Markdown syntax to accommodate it, but for now, if you type [[ in Ulysses, you get a URL link that starts with [. I noticed, however, that if I open an .md file that already has [[]]-syntax, it is rendered as \[\[backlink]] in Ulysses. And so I tried reversing it, and sure enough! If you use the back-slashes when writing in Ulysses (in the external folder used as an Obsidian vault) and then open the .md file in Obsidian, it appears as a normal [[Wikilinks]] – without the backslashes.
So my workaround is to set Keyboard Maestro to convert the typed string [[ to \[\[%|%]] (but only in Ulysses). This also positions the cursor between the wiki-brackets. Of course, there's no autocompletion in Ulysses, but for text entry, this seems to work well. (This will also work with a snippet utility like TextExpander, but the advantage of Keyboard Maestro is that you can limit it to firing in Ulysses with the same keystrokes used in Obsidian.)
While I was at it, I made a KM macro that takes selected text and converts it into a Wiki-style link.
The two screenshots show the settings.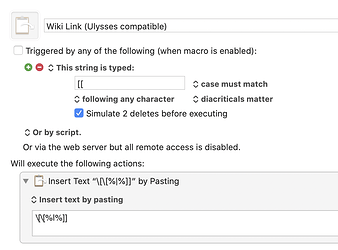 This is somewhat related to this discussion: https://forum.obsidian.md/t/support-real-markdown-links-between-notes.