Hello Obsidian community
I'm new to this - but i'll have a try…
What I'm trying to do
When a template is loaded into a note, the aliases of the template should be merged alongside the aliases of the note.
But after trying this, the whole note inclusive metadata (front matters?) are only copied into the note at the current curser position, and aliases are not merged: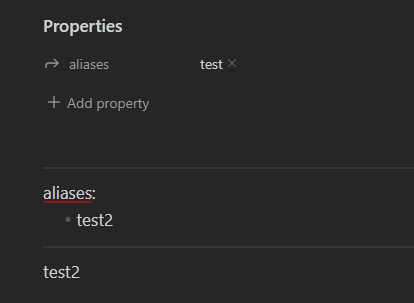 I read in v1.4.5 changelog that this should be possible:
"Templates automatically merge properties with existing properties in the note"
Things I have tried
I use Obsidian only for two months 'till now and have no idea where to start solving this problem.
Does anyone have the same problem like me and/or a solution for me?
Cheers