What I'm trying to do
Trying to get Obsidian Sync to sync .obsidian-mobile folder so I can have different settings between my Windows 11 machine and my Android device
Things I have tried
On both devices, I am syncing to the same obsidian vault with no excluded folders. In the Selective Sync settings, I have "Sync images" and "Sync audio" selected. I have everything under "Vault configuration sync" turned on: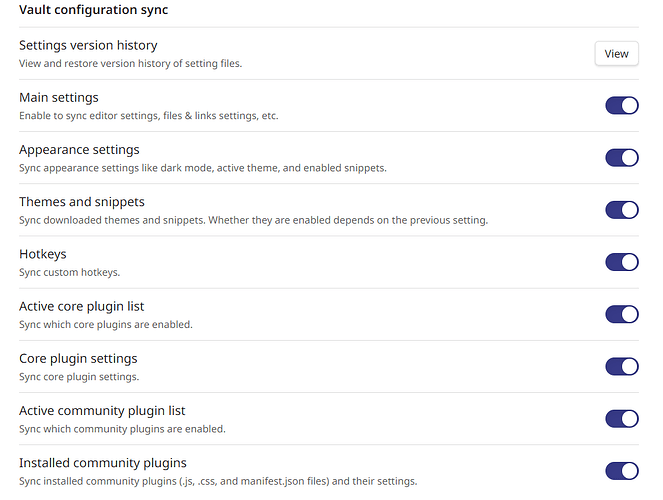 Apparently I am supposed to set things up manually with .obsidian-mobile as well, so I do the following:
On the Android device I set About > Override config folder to .obsidian-mobile. On the computer I added the .obsidian-mobile folder alongside the .obsidian folder and copied the entire contents of .obsidian to .obsidian-mobile. I restarted Obsidian on both the computer and the phone multiple times and the Sync log says they are both fully synced, but none of the settings or community plugins reappear on the Android device. The contents of my vault, the actual markdown files, are there, but it is just using application default styling, and things like "Show inline title" which I keep turned off. My core plugin settings are gone, for example none of my pinned commands in Command palette are there. With one exception that I can see - I do not lose any of my Obsidian Sync settings on my Android phone, everything is the same and it is still connected to the obsidian vault. None of my Community Plugins are there but Restricted mode for community plugins is still off.
If I change the config folder back to .obsidian on the mobile device, things are back to "normal" with Windows and Android settings the same.
I only have one Windows device and one Android device, and my vault is in just a plain folder on my computer which is not synced to any cloud or anything that would compete with Obsidian Sync. Any suggestions?