Things I have tried
I've set up a graph view using juggl with two nodes, connected with a double link
A → B
A → B
It shows a single edge: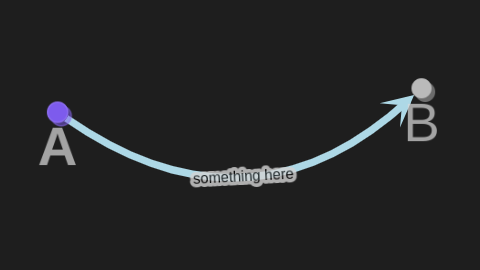 I wish to create two curved edges instead, based on the separate links between A & B. The juggl documentation (CSS Styling - Juggl) suggests edges are bundled by default:
edgeCount: When edges are merged (default), this is the total amount of edges of a certain type that are merged together. This is used by default to make lines thicker for merged edges that represent more links.
What I'm trying to do
How do I 'unmerge' these edges and show aliases for each unique link?
I am following the idea of @Salamander23 orginal post
Therefore, my Node A looks like this:
A
#test
description:: [[B|something]]
description:: [[B|something else]]

I use juggl's graph.css to show the edge-data:
/*If the context contains 'description', label the link as "description" */
edge[context *= 'description']{
    label: data(alias);
}

edge {
    ...
    curve-style: unbundled-bezier; /*important to better visualize separate juggl links*/
    text-rotation: autorotate;
    ...
}

I'd like to show 2 edges from A to B, each with it's own label: 'something' & 'something else' … ideally the solution is
a 'single mode' network A-> B
and not a 'two mode' network A → Something (else) → B