As of 2023-10-15, tags still have a few remaining advantages. It has to do with quickly and simply pulling up results—and this is more pronounced with nested tags. So before the details, the advantages are:
clickable searches
ability to nest
Say, if I want to quickly search all "Prominent People".
With tags, I just click on people/prominent. Done.
With properties, I can't do that. I'd have to create a new note, and then spin up a dataview query, which takes time and brainpower.
So, at least for now, you can't simply click on a property value like people: prominent—I can't click on "prominent" there and have the search results populate in the sidebar like with tags.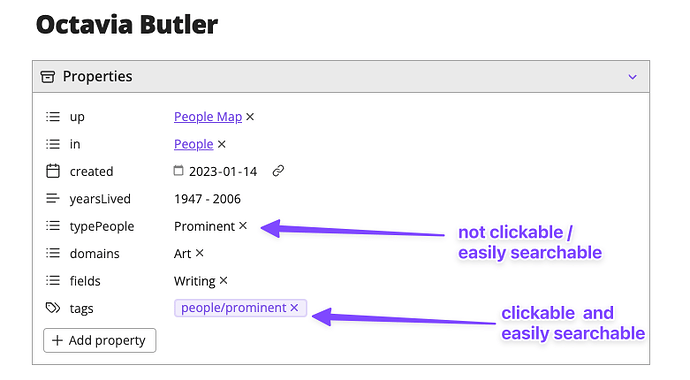 Now a properties fanatic would say, turn "prominent" into a note, then all the linked mentions will be there. But I don't want 100+ notes floating around with unclear titles like "prominent"—like, how is Future Me going to remember that a note called "prominent" is actually about people? And that's just one of the 100+ I would need to remember.
My hopes?
Properties expands it's functionality to allow "list" text to be clickable.
Obsidian's work on "Databases" solves part of these limitations.
Obsidian allows for nested properties.
Obsidian allows for Properties Wrangler (please upvote here).

This would give properties the same editability that Tag Wrangler gives tags. While Tag Wrangler hasn't been sherlocked yet (I'm actually surprised by this), it seems even more of a need to have a Properties Wrangler.
To finish, these are just patient hopes, not expectations, and I have trust in the devs to develop Properties over time in their 4D chess ways.
---
EDIT: Also, tags are very useful inline: