Steps to reproduce
Add just the following content
I'm working with [TICKET-ID]: Ticket subject, just to fix it

Expected result
The content is just plain text, not format added. It's not a marker, an abbreviation nor a footnote definition.
Actual result
The content is formated as a footnote definition in the Edit mode. It's being rendered as expected in the Preview, though.
Environment
Operating system: Windows 7, Linux Mint
Obsidian version: 0.9.17
---
Additional information
Adding just a single space between the closing bracket and the colon, it's fixed in the Edit mode:
I'm working with [TICKET-ID] : Ticket subject, just to fix it

This is a screenshot to show how it's being rendered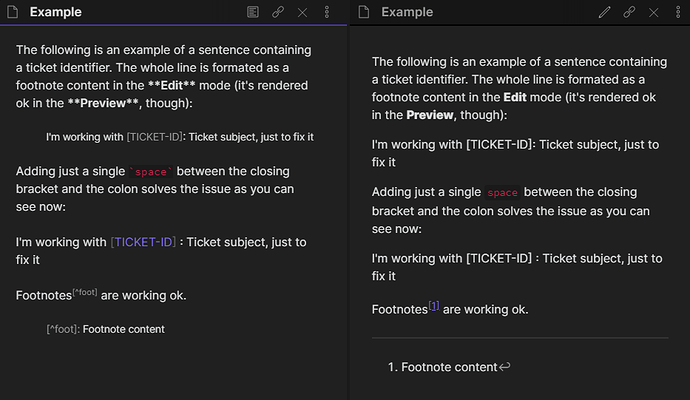 Using the web developer tools, I see the HyperMD-footnote class is added to the <pre> tag containing the string. So I assume it is being detected as a footnote. I've tried the same on the HyperMD online demo and it's failing in a different way.