Tags appear in Tag pane with odd characters, displaying the number of notes affected, but when selected in the tag pane the ensuing result is "no match found", so I cannot delete the tags in the notes or remove them from the tag pane.
Probably related to Better Handle md files not stored in UTF8 format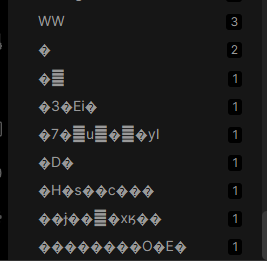 Steps to reproduce
Create an non-UTF-8 file with accents - I don't know because none of the files will open, so I'm not sure if there needs to be a # in front of the weird characters
Expected result
If the tag tree shows that there is 1 note affected, I expect clicking on the tag to display that note.
Actual result
Clicking on the tag shows "no results" instead of displaying the affected notes.

Environment
Obsidian version: v0.11.0!
---
Additional information