I noticed the bug while using the obsidian-admonition plugin. I reported the bug, but the developer said " I think this is the default behavior for the hypermd CodeMirror syntax highlighter inside a code block. Not sure I'll be able to fix this unfortunately." Hence I am making a bug report here.
Steps to reproduce
Add 3 test lines inside the admonition:

Use Obsidian/markdown quote feature(>) on the second line. BUG: Notice that syntax highlighter stopped working on all the lines even below the directly quoted one.

Another interesting detail
Putting a code block returns highlighting back to normal.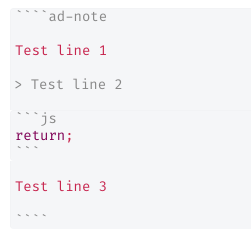 Environment
Linux Mint 20.2 Cinnamon
Obsidian 0.12.10
Admonition 6.2.2