This post is a double-dipping kind of post: Bug and Plug-in Request.
But yeah, I have emojis that I want to use (like the map emoji here), but some of them keep showing up as the Unicode version that Windows recognizes (upper left hand corner).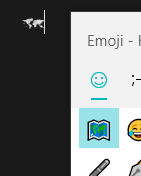 At first I thought this might have just been Windows, but I was able to test this on other apps, notably Windows Sticky Note app, Chrome and also Firefox: Chrome and the Sticky Note app were able to render whereas Firefox wasn't. I suppose the Firefox thing is a problem related to Firefox, but if this is respective to each app, then I guess this can be fixed in Obsidian.
My requests
For Obsidian to render these Unicode icons as emojis.
A plug-in to turn that feature off (or on), if someone doesn't want that particular feature.
---
NOTE: Obsidian only renders some emojis as Unicode, but not all.