I've got two copmlaints with Source Mode that keep me using the editor Legacy for the foreseeable future. I've turned off auto-updates to ensure I don't lose it unexpectedly.
The first one is that "Live" previews sneak in once in a while. Tags, for instance, show as a chip even in source mode, if they're at the top of the file.
Secondly, both Source and Live Preview have a bug with the cursor in a particular scenario. This works fine in the Legacy Editor.
To reproduce in the Help Vault, paste the following into a new help vault, including the empty spaces on the last line. You can see that the gutter values are misaligned
Test
	jkdjlksjdlas

	jksdjlaksjdalskdj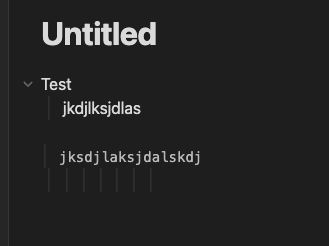 Additionally, there is another bug (present in the modern editor, but not the legacy editor) that you can observe if you turn off the gutter display.
To reproduce:
Open the Sandbox Vault.
Disable "Show indentation guides".
Insert a tab character and type any character.

Note that even with "Tab indent size" set to 4, the cursor does not jump to the same position that inserting four spaces would.
Note the cursor jumps backwards when you start typing due to the monospacing. (this works fine in Legacy editor)

Insert a new-line. This will take you to an indented cursor position.
Insert several space characters.

Note that the cursor moves erractically back and forth instead of moving forward one character at a time. (this works fine in Legacy editor)