Things I have tried
I've searched in Dataview Docs, this forum and Discord and couldn't find a solution. I'd appreciate if someone could point me to documentation or offer any suggestions on how to achieve it.
Many thanks

What I'm trying to do
I want to retrieve a recursive list of all outgoing links from a specific note.
Generating a list/table of outgoing links from a "root" page and, in the same result list, include all outgoing links from the previous level of outgoing links.
Ideally, the query would include unlimited depth (listing outgoing of outgoing links indefinitely) similarly to what obsidian graph does.
Given the graph below, I'd like to use dataview to return outgoing links recursively as in the pseudo-dataview queries provided as examples below: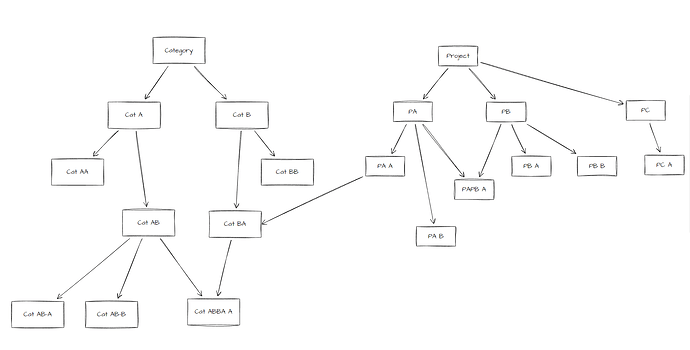 Example 1
dataview
list
FROM [[category]] -> Recursively.Outgoing

Results 1
Cat A
Cat B
Cat AA
Cat BB
Cat AB
CAT BA
Cat AB-A
Cat AB-B
Cat ABBA A
---
Example 2
dataview
list
FROM [[Cat A]] -> Recursively.Outgoing

Results 2
Cat AA
Cat AB
Cat AB-A
Cat AB-B
Cat ABBA A
---
Example 3
dataview
list
FROM [[Cat B]] -> Recursively.Outgoing

Results 3
Cat BB
CAT BA
Cat ABBA A
---
Example 4
list
FROM [[Project]] -> Recursively.Outgoing

Results 4
PA
PA A
Cat BA
Cat ABBA A
PA B
PAPB A
PB
PB A
PB B
PC
PC A
---
Example 5
dataview
list
FROM [[PA]] -> Recursively.Outgoing

Results 5
PA A
Cat BA
Cat ABBA A
PA B
PAPB A
---
Example 6
dataview
list
FROM [[PB]] -> Recursively.Outgoing

Results 6
PAPB A
PB A
PB B