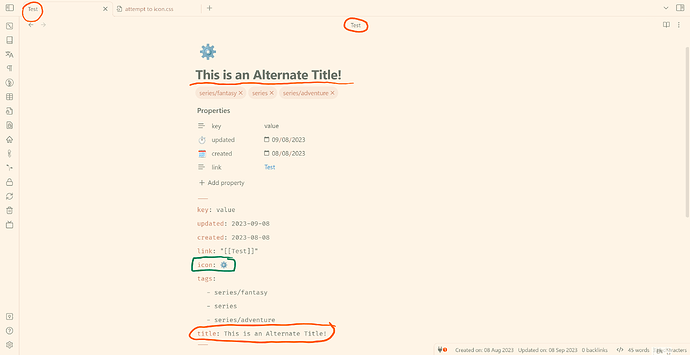 With this CSS snippet, you can define an icon and a display title for your notes! It also causes tags to float under the title, Make.md style.
How to Use
To define an icon, just make a property called icon and give it a value of an emoji or unicode character. Like this (quotes are optional):
---
icon: "⚙️"
---

To give your note a display title, make a property called title.
---
title: "This is an Alternate Title!"
---

Having a tags property automatically gives you the nice tags-under-title look.
Get the Snippet!
Copy and paste into .obsidian/snippets in your vault!
body {
  --tag-addition: 0px;
}
/* get rid of property keys for our custom properties */
[data-property-key=icon i] .metadata-property-key, [data-property-key=title i] .metadata-property-key, [data-property-key=tags i] .metadata-property-key {
  display: none;
}

/* === make properties display-able always (so icons and such don't disappear when collapsed) === */
.metadata-content {
  display: unset !important;
}
.metadata-container.is-collapsed .metadata-add-button.text-icon-button {
  display : none !important;
}

/* === Icons === */

/* put icons in a position relative to inline title */
/* also responds to inline title size (may break at high sizes)*/
[data-property-key=icon i]{
  position: absolute;
  display: block !important;
  margin-top: calc(calc(-130px - var(--tag-addition)) - calc(var(--inline-title-size) / 2)) !important;
  z-index: 300!important;
  padding: 0px;
  height: fit-content;
  font-size: calc(var(--inline-title-size) * 1.3);
  left: 0;
}


/* make some room above the inline title */
[data-type=markdown]:has([data-property-key=tags i]) .inline-title {
  margin-bottom: calc(20px + var(--tag-addition)) !important;
}
[data-type=markdown]:has([data-property-key=icon i]) .inline-title{
  margin-top: calc(calc(70px + var(--tag-addition)) + calc(var(--inline-title-size) / 8)) !important;
  font-size: var(--inline-title-size) !important;
  text-align: left !important;

}

/* ==== Custom Titles ==== */
[data-type=markdown]:has([data-property-key=title i]) .inline-title {
  opacity: 0; /* make the REAL title disappear! */
}
[data-property-key=title i]{
  position: absolute;
  display: block !important;
  margin-top: calc(calc(-70px - var(--tag-addition)) - calc(var(--inline-title-size) / 2)) !important;
  z-index: 300 !important;
  padding: 0px !important;
  margin-left: 0 !important;
  height: fit-content;
  left: 0;
  font-weight: var(--inline-title-weight);
  font-size: calc(var(--inline-title-size) + 0.3em) !important;
  line-height: var(--inline-title-line-height) !important;
  font-style: var(--inline-title-style) !important;
  font-variant: var(--inline-title-variant);
  font-family: var(--inline-title-font) !important;
  letter-spacing: -0.015em !important;
  color: var(--inline-title-color) !important;
}
[data-property-key=title i] .metadata-input-longtext {
  padding: 0;
  overflow: hidden;
  width: var(--file-line-width);
  white-space: nowrap;
  text-overflow: ellipsis;
  display: block;
}

/* ==== Pretty Tags ==== */
[data-property-key=tags i]{
  position: absolute;
  display: block !important;
  margin-top: calc(-60px - calc(var(--inline-title-size) / 2)) !important;
  z-index: 300!important;
  padding: 0px;
  height: fit-content;
  left: 0; 
  
}
[data-type=markdown]:has([data-property-key=tags i]) {
--tag-addition: 20px;
}
[data-property-key=tags i] .multi-select-container {
  padding: 0;
}
[data-property-key=tags i]:hover {
    box-shadow: none;
}