I've been looking for a while at moving my recipe database out of Paprika Recipe Manager. After trying out a bunch of different self-hosted options like Tandoor, I didn't find anything I really liked, so was stuck still using it. That was, until I migrated my md notes recently to Obsidian and stumbled upon this cool thread with some really nice ideas and DataView demos.
I decided to write a script to move my recipes into Markdown. I've uploaded the results to a GitHub repo with a fairly decent set of instructions on how to use it.
You can choose and edit the templates and make your recipes into whatever you want them to be. It should also be fairly straightforward to program this for other recipe managers as well. I've also included a plain markdown template and a YML only template if folks don't want to use Dataview/Obsidian.
I hope other recipe/cooking tech fans can help create an even better Markdown recipe manager using just YML frontmatter and Dataview/DataviewJS. It's already looking pretty good, but it could be even better/more useful.
Eventually I'd like to be able to import recipes from a page into a Markdown note, without the use of Paprika.
It'll work pretty much out of the box and supports recipe scaling and hiding empty elements.
Rendered markdown: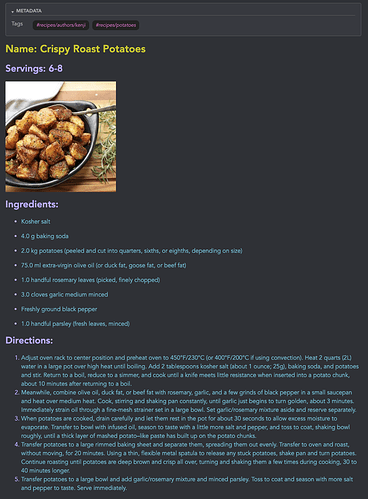 YML: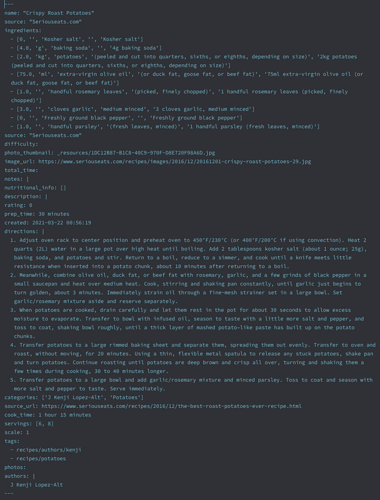 Dataview Code: