Hey there!
My plugin automatically generates a Map of Content for your vault. You choose what note should be the center and it finds the shortest connection to every other note by following all the links. Every time you open a note it then generates an MOC like this: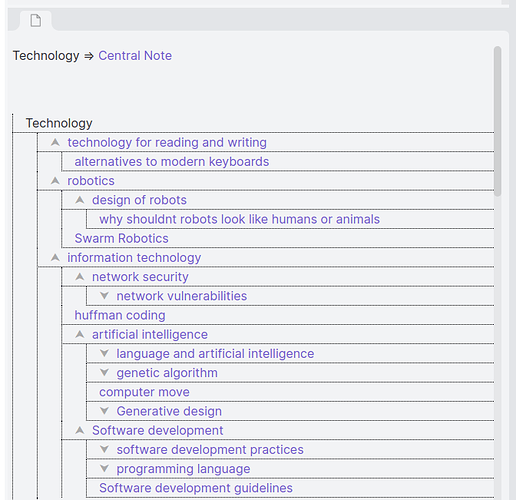 It solves the problem of having many different notes but not really knowing how they are linked to each other, because you can only ever see one layer of connections at a time.
Another problem it solves is that since Obsidian is link-based and not folder-based it lacks a hierarchical structure. That's great for flexibility but not so great for logic and order. My plugin generates a hierarchical structure out of all the links, that can change when the links change and thus keeps all their flexibility.
It's my first Obsidian plugin and i hope you'll enjoy using it!
Download it by searching the community plugins for "Map of Content".
Some ideas i have for future features are:
integrating with the tagging and folder system, to exclude some notes based on tags or folder structure, or to treat tags as links in the MOC as well)
making the plugin respond to user behaviour by analyzing and displaying the most used (and thus most relevant) paths and notes first
highlighting notes that need attention because they're not well linked or related to any still relevant notes to avoid "note rot" where notes fade into obscurity while bloating up your vault (regularly combing through your old notes to keep them in order and well integrated with newer ones is also a great way to remember what you wrote about, as it combines spaced repetition with the task of linking old thoughts with new ones (elaboration) which also aids memory tremendously)
the ability to maintain distinct hierarchies centered around different central notes, so as to in effect have virtual vaults within the same vault (this could solve the problem many people including me seem to have where you want to keep your notes well integrated, but also need to be able to get a clear view of just one thematic section of your vault)
I'd love your feedback on the plugin (whether it works for you and is useful) and what you personally think some great next features would be.
Bug reports and specific feature requests can also be filed on the plugins GitHub repo.