This case is different from the fixed one here: Location of the preview panel jumps back to the beginning of the page when there is an embedded block - #4 by WhiteNoise
Steps to reproduce
Turn on "Fold indent" in Settings->Editor panel
Creating a note as the following:
## Para_title_1

## Para_title_2

## Para_title_3

## Para_title_4

## Para_title_6

## Para_title_7

## Para_title_8

## Para_title_9

- This is a list with children
	- a
	- b
	- c
	- d
	- e
	- f

## Para_title_10

## Para_title_11

## Para_title_12

## Para_title_13

## Para_title_14

## Para_title_15

## Para_title_16

## Para_title_17

## Para_title_18

## Para_title_19

## Para_title_20

## Para_title_21

## Para_title_22

## Para_title_23

## Para_title_24

split the window vertically, link the two windows and turn one of the window to edit mode and the other preview mode
in the preview window, fold the list.
scroll down the window in edit mode
Expected result
the content within the preview mode windows should scroll down to the correct location accordingly.
Actual result
When it comes to the unfold list in the window in edit mode, the preview page jumps back to the beginning of the page.
Environment
---
Additional information
Case#2-1: with the list folded in window in editing mode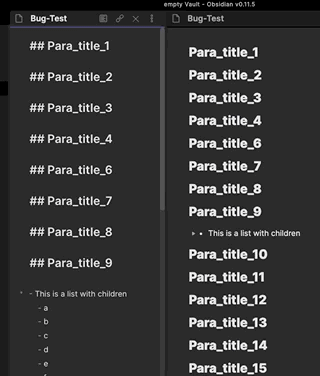 Case#2-2: with the list unfold in window in editing mode