Hi,
I just found that using the Minimal theme I was able to decorate my task into so much more than just tasks, but it posed a little problem in getting an overview of which tasks where left to be done across files. I thought about asking in the Help category, but I wanted to do some research first. This post is that research and result of this.
My starting point was that I wanted to get a list of tasks, and filter out those not started and/or incomplete. I didn't want to see all which were either completed already or just decorated for other purposes.
My two main tools to achieve this result was a simple dataview task query, and the output from $=dv.span(dv.current().file.lists (where you could drop the file.lists part to get all information). I then made a sample file, and extended it until I found the solution. This file is shown below:
---
Tags: uniqueTag
---

Some sample tasks of the various types:
- [x] completed task
- [/] incomplete task
- [ ] not started
- [>] Migrated
- [<] Scheduled 
- [-] cancelled task
- [u] It's going up
- [d] ... or down

Here are my various attempts at getting
 a list of those tasks.

## All tasks
task from #uniqueTag 

## Uncompleted tasks?
task from #uniqueTag 
where !completed

Includes all the extra tasks, as well.

##  text contains "k"?

task from #uniqueTag 
where !completed
  and contains(text, "k")
No go, as it only checked the actual text of the task

## Using status
task from #uniqueTag 
where status = " " or status = "/"

By looking into the _All info_ shown below,
I found that the actual text between the brackets 
was stored in the `status` field, and then I can 
combine whichever set of these that I wanted. 

# All info
`$=dv.span(dv.current().file.lists)`

The top part of this renders as: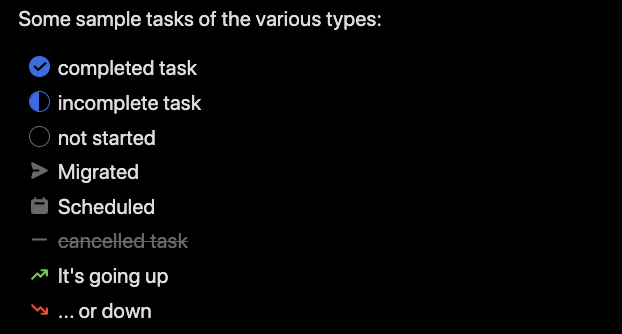 Hopefully this post/approach could help other figure out how to manipulate a task list according to their specific needs, based on available info from dv.current() or within a DQL TASK query.
Regards,
Holroy