I recently set up Obsidian Sync across my devices (MacBook, iPad and Android phone) and am happy with how it's working, however plugins don't sync. As mentioned in other related posts, I have to manually install, active and update settings on each device individually.
In this thread, I see a message that it will be implemented in v 0.12.8 and indeed there are settings for this in the Sync plugin that are turned on: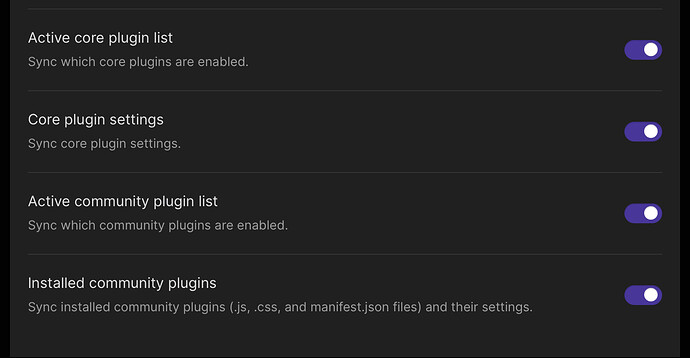 However despite this, neither core nor community plugins are synced. Is this still not enabled? Or is something wrong on my end?
Things I have tried
Using Obsidian Sync to sync vaults between 3 devices. All Sync setting turned on in settings (for all devices).
MacBook Pro, MacOS Big Sur, Obsidian v0.12.12
iPad, iOS 14.6
Android 11
What I'm trying to do
Sync plugins and their settings.