I'm super glad to hear

Thank you for reporting!
The update worked. Thanks so much for the update.
@jeffk8900 – Of course, you're very welcome. Would you mind helping me understand how/when/where/why you use the highlighting in your workflow?
Hey all, happy Chrismahanukwanzakah!
I just pushed a new feature that we talked about for a while: Automatically create a new file after extraction.
The configuration is simply on/off (Off by default)

Yay! Hope this makes your work easier, too

Hey team, I've been hacking away at a related plugin that I think will be useful.
This time it allows you to extract highlighted and underlined text from your PDFs into a markdown file in your Obsidian vault.
Super simple to use, too. Just open a PDF in Obsidian, click a button and a few seconds later you have the highlights in markdown.
Here's a quick demo to show: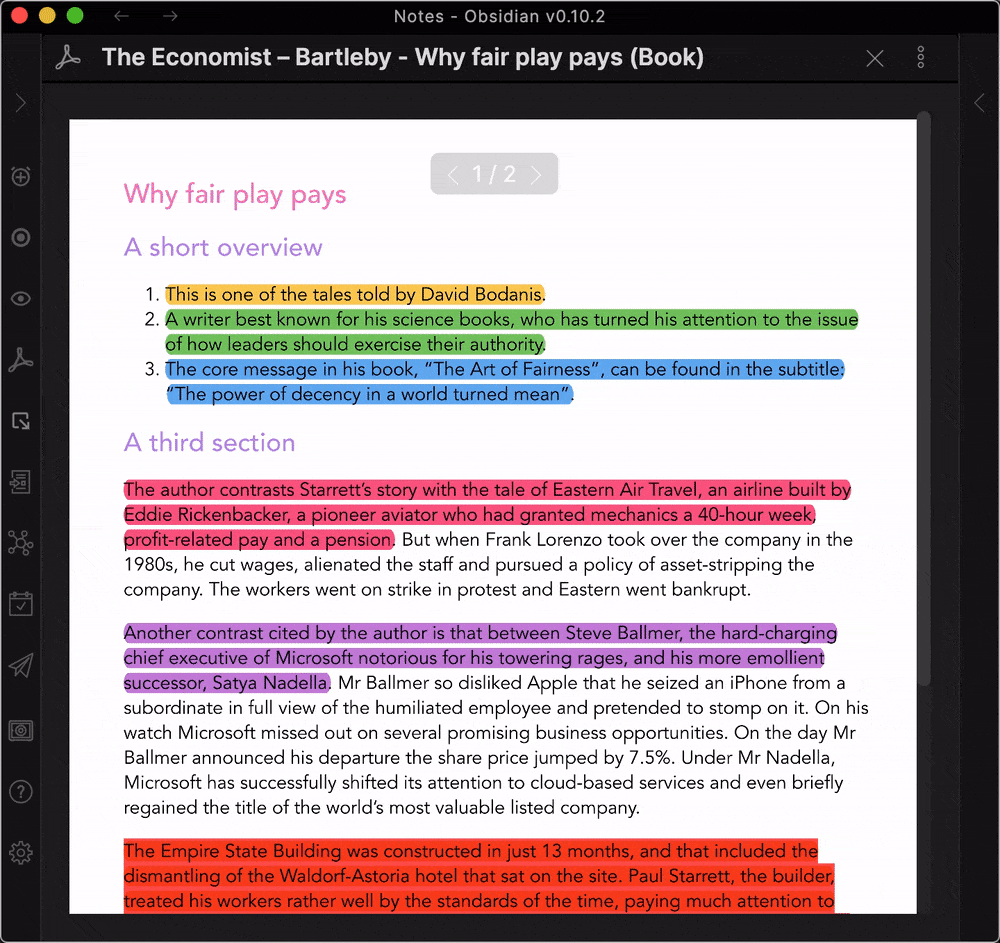 There are also a bunch of settings (similar to the "Extract Highlights Plugin") such as
Include page number (Default: off)
Include highlight color (Default: off)
Create links (Default: off)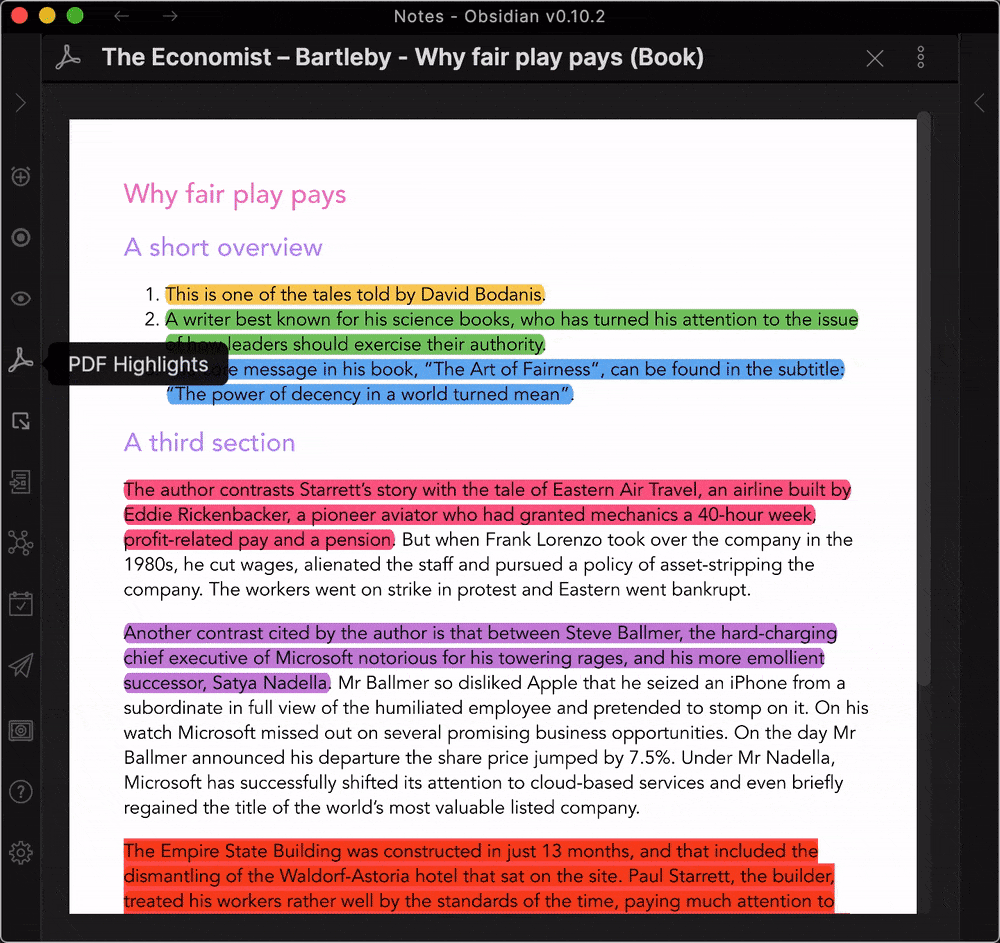 Let me know if this tickles your fancy at all and most importantly: What should we name this puppy and what side-bar icon should it have?
"Distill PDF Highlights"
"PDF Highlights"
"PDF Annotations"
Suggestions?!
Thanks!
Alexis
I have two questions that I hope you can clarify
does this only work with single page pdfs ?
sometimes I see that the highlights are not shown in obsidian pdf, but drawings/scribblings (tablet) are. Do I have to flatten my highlights for this plugin to work?
I just wanted to say thank you for this awesome plugin. Knocked it it off the park!
I like the new idea as well. I'm not sure I'll use it for my formal work as I use Zotero for managing citations and bibliography creation in my research reports. However for my personal research it would come in handy for sure!
Hi @Abhi, thank you for your questions!
The PDF highlights plugin looks at all pages in your PDF
I'd have to see an example for that. The PDF viewer included in Obsidian may render things differently. If you want, send me an example PDF to test extracting highlights or just try yourself
I should probably add that the "PDF Highlights" plugin is now officially in the Obsidian 3rd Party Plugins directory!
To install it, just search for "PDF Highlights" and install and activate

Thank you so much! If it helps even a little bit during personal research, I'm happy. Cheers!
@akaalias
Thank you for the response. I tried with a multipage pdf, the kind that I use regularly for my note-making. I am uploading it here. It is already highlighted in some places which shows up when I open it in Acrobat or DrawboardPDF. But when I click the plugin icon after placing it in Obsidian vault, nothing happens.
I have uploaded it here, please have a look if it is compatible.
usp=sharinghttps://drive.google.com/file/d/1BbpZUWfpIDBI-dSDTmStlnFraBNa08JO/view?usp=sharing
Hi all!
I've got some really cool news (at least I find it so exciting) about a SECRET new mode in the Highlights Plugin.
I'm not going to say too much though. Watch the video and let me know if this is CRAZY?!
This looks awesome! Thanks for your work

Can't wait to try it! Thanks so much.
So far, works like a dream
Great idea – share your excitement and enjoy your generosity. Works a treat – and it adds an amazing function to an already great pugin. Thanks!
Thank you so much @arminta, @I-d-as, @anicholslcsw and @Marc-A for your kind words!
If you wanna learn more, here are 3 tips and tricks that I forgot to mention yesterday:
Cheers!
Hi Alexis. Thank you for the great plugin and YT video. But I have a few problems. I am on the same version as you. 0.10.8. Extract Hightlight plugin is installed and the highlights are working if I use == . It is not working with the shortcut. If I click on the button on the side bar the MOC is created but not all the notes. I have anabled all the settings like in your video. Also the two shortcuts are not working. ALT+SHIT+_ and CTRL+ALT+H What can be wrong? Your plugin is version 0.0.16