Hi there!
This tiny plugin extracts all highlights from a current note in Obsidian into your clipboard for further use (Atomic note-creation etc.)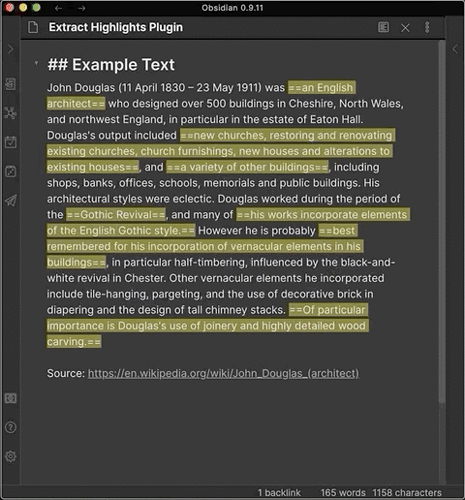 It's based on @icebear's plugin idea and @santi's awesome feedback over the last days.
Today I'd love to share it "officially" with you and invite you to take it for a spin.
Super simple, here's how it works:
Set up: Settings -> Third-Party Plugins -> Community Plugins -> "Extract Highlights" -> Install
Test-drive: Paste a long text into Obsidian and use == to mark up things that stand out to you
Extract: Hit SHIFT-ALT-= to copy the highlights into your clipboard
Create: Create a new section or note to paste your highlights
Your Feedback
I'd love to hear from you how we could improve this idea.
Please share your thoughts either…
Speaking of feedback. An issue just came up today about whether the automatic addition of the "## Highlights" should be the default.
What do you think?
Is adding "## Highlights" useful for you?
Yes, having "## Highlights" added by default IS useful to me
No, having "## Highlights" added by default is NOT useful to me