Use case or problem
Let's face it, most of us have lots of plugins and many use both the desktop & mobile app.
But when it comes to cross-device plugin support not all plugins are supported on mobile and tend to get disabled on desktop while syncing, turning it into a plugin management nightmare when having many plugins.
Wouldn't it be nice to just have an Extra Column of Plugin Toggles for mobile as well?
This would result in a mobile performance boost as well, considering that many plugins that we use on Desktop aren't always needed on Mobile.
Example: right now out of 90 plugins I have around 40 that I use only on Desktop, which are of no use to me on mobile where I only read and not edit, and the app takes 30 seconds to load.
Proposed solution
The solution is quite simple and it's a design pattern implemented in other apps as well.
Just add an extra column of plugin toggles so that there's a column for Desktop and another for Mobile. This way we get to choose what plugin is enabled/disabled on desktop vs. mobile.
The implementation could possibly be that simple, too: detect platform and simply ignore the desktop column toggles on mobile, and ignore the mobile column toggles on desktop.
[edit: for those who think it clutters the UI, an option can be added "Do you want selective plugin toggling across devices?" that, when turned on, would insert the extra toggles, otherwise nothing changes in the UI for those who wouldn't want this feature]
Below is a mockup I made in 5 minutes UI-wise (I reckon the implementation won't be that fast)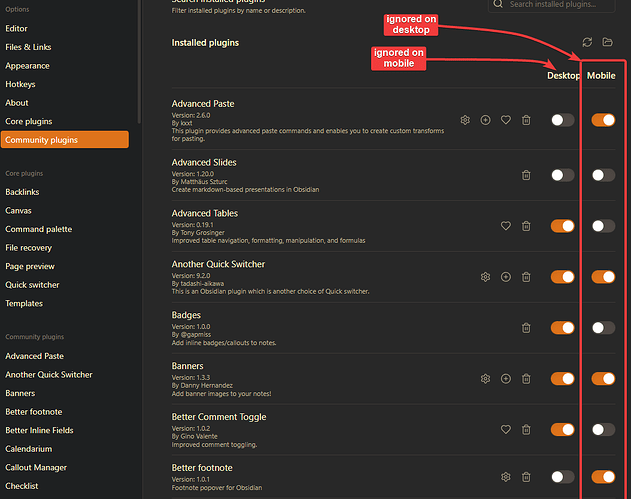 Current workaround (optional)
Still haven't found a workaround.
Related feature requests (optional)
Somehow related regarding the cross-device plugin management problem:
Syncing .obsidian with mobile shouldn't turn off the plugins that are unsupported on mobile