What I'm trying to do
Hi,
I've been using obsidian for a little bit but just starting to work with sync and plug ins. I keep getting this error when I'm typing - it wouldn't actually be that bad since it's not actually failing to save - everything I type is there when I reopen it, but it chains down the side and it's so irritating to look at.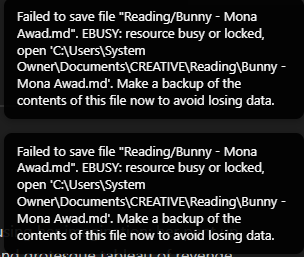 Things I have tried
I searched and saw things about ending processes in the task manager, but can't seem to find the right process to end - I tried ending a bunch and ended up just having to restart obsidian - plus no one else seems to have recorded the error where the save isn't actually failing.
Any advice?