Using Obsidian 1.4.9
Wondering if anyone knows of a way to disable the popup below that appears whenever you focus the search field?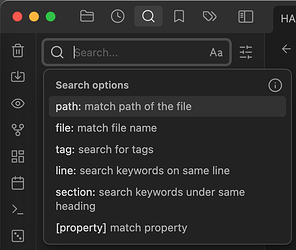 I'm familiar enough with these modifiers, so now they just get in the way. Also, since "path:" is highlighted by default, what often happens is I hit ENTER to actuate a search, but instead, Obsidian inserts an unwanted path: into my search field.
I read Search - Obsidian Help but didn't find any solutions there.