Introduction
Hello from your local knowledge organizer! you might remember my earlier posts about Cataloging, Classification, Information Science, PKMs and YOU! my recorded episode Merging library & information science and PKM - How Bri Watson uses Obsidian, or my community talk Obsidian Community Talk: Knowledge Organization in Obsidianon the same topics.
Unlike all of those other things, I'm going to say that if you've been using obsidian for awhile, you're not going to find this post useful at all. That's great! I'm not interested in changing systems that work for y'all.
However, I am here today with this quick little forum post in the hopes that it serve as a useful for beginners. I was inspired to write this post because of the nearly-daily (more than daily?) questions in the #knowledge-management Discord from PKM beginners, usually along the lines of "help how do i organize this thing/all of these things aaaaHHH"
Don't fear—cataloging and classification is here! This post will largely be about the latter (classification) and not the former.
A quick definitional refresher from my earlier forum post (why can't we transclude things in here??)
catalogue, n.
Etymology: < French catalogue, and < late Latin catalogus, < Greek κατάλογος register, list, catalogue, < καταλέγειν to choose, pick out, enlist, enroll, reckon in a list, etc., < κατά down + λέγειν to pick, choose, reckon up, etc

A list, register, or complete enumeration; in this simple sense now Obsolete or archaic.
2. Now usually distinguished from a mere list or enumeration, by systematic or methodical arrangement, alphabetical or other order, and often by the addition of brief particulars, descriptive, or aiding identification, indicative of locality, position, date, price, or the like.
classification, n.
Origin: A borrowing from Latin. Etymon: Latin classificatio. Etymology: < post-classical Latin classificatio (1673 in a German source; 1767 in Linnaeus) < classical Latin classis class n. + -ficātiōn- , -ficātiō 1. The result of classifying; a systematic distribution, allocation, or arrangement of things in a number of distinct classes, according to shared characteristics or perceived or deduced affinities. Also: a system or method for classifying. 2. The action of classifying or arranging in classes, according to shared characteristics or perceived affinities; assignment to an appropriate class or classes.
Simply put: Cataloging is what we call things, the subject headings, aliases or tags, we give them. More information.
Classification is where things go, either on a shelf or in a computer system and so on. More information.
CUT(ter) AWAY THE CHAOS!
If you're new to Obsidian, if you're overwhelmed with files, and if you have definitely decided on folders (which I think is better, but to each their own) Today, I want to introduce you to Charles Ammi Cutter, your new bestie: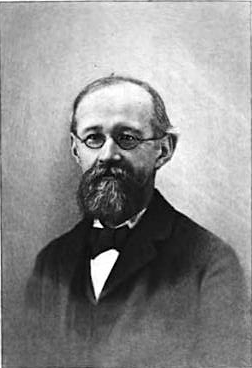 I'm not going to delve deep into the biographical details here, but suffice it to say that Cutter is still referenced every day in libraries around the world. His name and ideas (Cutter Numbers, Expansive Classification) are still praised and cursed. Instead, I want to focus on a book he published in 1891 with the very exciting title of: Expansive Classification
Cutter found Decimal Classification, invented by the godawful "father" of modern classification aka Serial Sexual Harasser Melvil Dewey too limiting (give Christianity tons of numbers and shove the rest of the world's religions into 10), yet at the same time too complex. Imagine trying to remember that you have a folder numbered 301.1543012917492705694 and it's about 'Arab Attitudes Toward Israel)' and you'll understand what he meant.
Furthermore, many small libraries did not have need of a massive organizational system. Instead, they needed something small. So Cutter devised the Expansive Classification to be used from libraries that are teeny-tiny (your first few obsidian notes) to massive and gigantic ones.
Cutter completed and published an introduction and schedules for the first six classifications of his new system (Expansive Classification: Part I: The First Six Classifications), but his work on the seventh was interrupted by his death in 1903. Although his methods didn't exactly sweep the nation, Library historian Leo E. LaMontagne wrote that:
Cutter produced the best classification of the nineteenth century. While his system was less "scientific" than that of J. P. Lesley, its other key features – notation, specificity, and versatility – make it deserving of the praise it has received.
What's more, is that it went on to serve as the basis for the Library of Congress classification, which is now the world's largest and most common organizizing system (it's literally thousands of pages, I promise you don't need anything that complicated).
So how does this relate how I organize my Obsidian notes??? (skip here if you just want the goods)
WELL, HERE WE GO!
Expansive Classification (which you can read here) was designed in seven separate schedules (read: seven groups of folders), and each of these was meant to be used by libraries of different sizes. This means that Cutter's system can be used by libraries (read: note collections) that are teeny-tiny (your first few obsidian notes) to ones that are absolutely freaking gigantic. Each schedule builds upon the previous one, and there are plenty of instructions on how to expand things.
I'll include the first four below to get you off to a good start!
But, first: a note of caution (and an example!)
I don't expect you to follow his system to the exact letter—nor should you!! Cutter was an old white dude living in the 1800's and… the world has (thank god) changed a little since his days!
Seriously, make this system yours! Here's an example of a folder I've made combining Johnny Decimal with Cutter. Here is my "everything else in the goddamn world folder," aka 400 - Society. Philosophy. Psychology. Religion:
10. Reference. Prolegomena. Propaedeutics – reference things
15. Productivity & Psychology – brain goes burrr
20. Philosophy & Religion – jai guru deva om and all that
25. Education – i learned real good
30. Society. Media. Journalism – god, literally everything
50. Historical Sciences & Book Arts – ALL OF HISTORY
60. Natural, Applied, & Social Sciences. Medicine. Geography – me telling you i'm in the humanities without telling you—this is like all of science
70. Computer Science. Digital Humanities. The Internet & Linked Data – i do some techy things
80. Arts. Languages & Literature. Recreation. Culture – fun things (i don't do them)
As you can see, these are absolutely gargantuan categories—there are lots of subfolders, like 400 - Society. Philosophy. Psychology. Religion\60 - Natural, Applied, & Social Sciences. Medicine. Geography\15. Games, Systems, and Decision Theory. I find this helpful! Every note goes into a folder that is logical and flows well.
Anyhow, you want the systems! and they will follow this post!