This was briefly covered here in #bug-reports, but I wanted to add it as a feature request.
I often want to take my obsidian writing and paste it into other applications.
A fantastic feature for me would be able to copy text as formatted, html, or markdown. This enables me to take my writing and quickly bring it into other formats.
My current workaround is to open in iA Writer where I can select text and get this menu.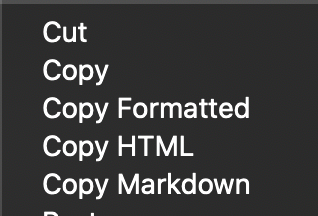 Does anyone have an Alfred or Keyboard Maestro script or workflow to do this? Even better would be to have the option of stripping out the [[]] brackets.