HI, I need some CSS help:
What I'm trying to do
I'd like to make the font and line height of frontmatter smaller than the normal document text. In the screenshot below I want to make the frontmatter text type, created, modified closer to each other.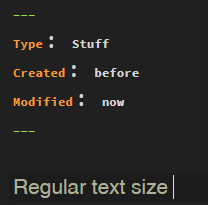 Things I have tried
I used code from this post and was able to reduce the font size but the lines stayed the same height so the whole front matter was the same size but with small text. I tried adding line-height, border, padding and maybe a few other things but nothing seemed to work, line-height did do a little but no matter how small I made it there was still a large gap between text.
Here is my modified code from the link above.
.is-live-preview .cm-line .cm-hmd-frontmatter {
  line-height: .2em !important;
}
.is-live-preview .cm-line:not(.cm-active) > .cm-hmd-frontmatter:not(.cm-meta) {
  font-size: .6em;
  font-weight: 600;
  line-height: .2em !important;
  
}
.is-live-preview .cm-line > .cm-hmd-frontmatter:not(.cm-meta) .cm-selection,
.is-live-preview .cm-line > .cm-hmd-frontmatter:not(.cm-meta).cm-selection {
  line-height: .2em !important;
}