Hello, everyone! You can now find California Coast listed under community themes. This theme started out as a set of snippets on top of the minimal theme. I've worked to make it more robust and less dependent on the hider and sliding panes plugins, though they are still recommended for a cleaner UI. Consider this theme beta at this point, and please submit any issues you encounter here on github: GitHub - mgmeyers/obsidian-california-coast-theme: A minimalist obsidian theme inspired by macOS Big Sur
Change log
2021-04-05

Fixed a number of bugs caused by the switch to Style Settings

2021-04-04:

Version 1.0.0
Deprecates California Coast Settings Plugin in favor of Style Settings plugin

2021-03-21:

Added configurable heading styles via the theme plugin
Embedded a base64 encoded version of the boxicon font
Added better default styling for users without the settings plugin
Removed some CSS that was causing some users performance issues

2021-01-23: Removed a memory hogging CSS rule
2021-01-12: Many miscellaneous updates, including better windows support
2020-12-26: Embedded boxicons—it is no longer required to install the icon font as long as the theme plugin is installed
Recommended plugins
Screenshots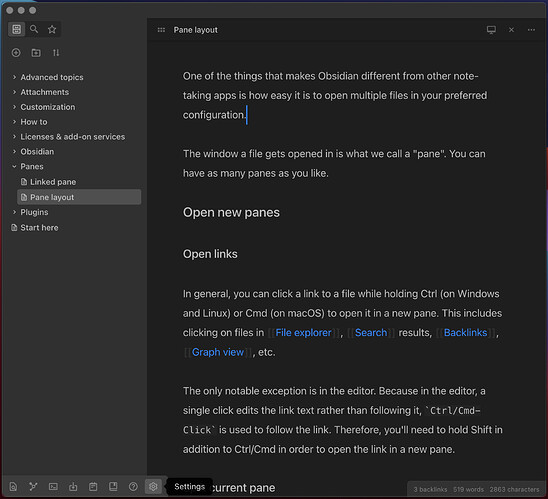 Contributing
If you see any issue, or would like to contribute to this theme, please submit an issue or raise a PR.
Credits
This theme wouldn't be possible without @kepano's minimal theme
Troubleshooting
In all cases:
Update the theme CSS
Update the theme plugin
Translucency not working on Windows
Re-installing Obsidian has been known to help. Updating Obsidian via settings does not update electron, so it is important to update via the installer if you are experiencing issues with translucency.
Translucency makes Obsidian laggy
This is a known issue on Mac, and seems to be caused by electron. There is no known permanent fix for this, though refreshing Obsidian (cmd+r) helps.
There's too much header padding in preview mode
With the Style Setting plugin installed you can adjust the padding in the theme's settings for each level of heading.