Please add [Bug] or [Feature] to your post title, then delete this line.
Platform
[x] iOS
[ ] Android
Obsidian Mobile version:
v1.2.0(50)API v0.14.2
---
to reproduce the bug,
create a note
copy the following text as one paragraph and paste it in the note 20 times.
I want everything to speed up so I can get to the good bits. I want to squeeze all I can out of every moment. I want only the cliff notes version of my day. I want to go back and relive some moments. I want to never regret anything. I want a life rich with meaning. I want a life filled with only the barest of iconic symbols. I want bacchanalia. I want asceticism. I want to do it all myself. I want someone else to do it for me. I want to never be tied down with love.


now the word number in the note should exceed 2000 words. in the first line, begin to type Chines continuously. You can use the build-in Chinese Pinyin input method.
what I observed is, sooner or later, the IME's candidates words bar will suddenly fly to the top left corner of the screen, and the input is interrupted and will never recover automatically.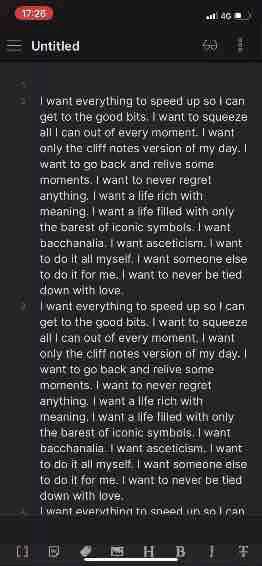 Additional information:
this bug can be reproduced on iOS and iPadOS with or without 3rd party input method.
I also tried the codemirror6 website and I cannot reproduce the issue there.