Use case or problem
It's good to have the folder exclusion option that we already have. However, a subfolder of my media vault contains an enormous number of non-markdown files. I would've hoped obsidian could ignore this directory entirely, but Obsidian is still trying to index all of those files. The graph view takes much longer to fully initialize, and it introduces a lot of overhead for plugins that query non-markdown files.
Proposed solution
---
At minimum
We really need a stronger exclusion option that utterly bars obsidian from even bothering from ever using a directory, not just making it less noticeable.
Really, we need…
…to have a full tree UI in the settings for managing directory specific settings. Generally someone would develop a plugin for that sort of thing. But, considering there are multiple built-in uses, I think it's something that should be considered a base feature of Obsidian, where plugins could add their own directory options.
Why would it make sense as a base feature? We've got:
Standard exclusion: excluded files hidden in Search, Graph, and Unlinked mentions, downranked in switcher and suggestions
Sync exclusion
Publish exclusion
Complete exclusion from obsidian: not visible anywhere, save for explicit file:/// links
This would unify and improve existing settings.
Features, and problems they solve
A drawback of the current UI is that if I have a directory with 1 subdirectory, which I want included, I'll have to exclude every other subdirectory except that one. A directory settings tree would allow inverting the settings for a directory, so users could select one directory, and invert.
A while back I made this request:
And among a few other related issues, @EleanorKonik made this request:
These are two examples of settings that could easily be managed in a directory settings tree. There could be a dropdown to select the context (general, sync, publish) to show the associated settings. The Sync type (mirror, update, two-way, ignore) could be set by cycling through a multi-toggle. The app FreeFileSync is a good example: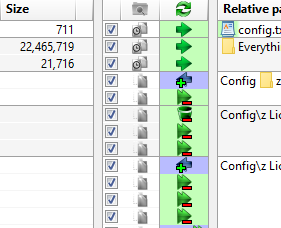 A similar UI with varying options could be used for each context, cycling through visible, hidden, and excluded.
One of the best features in my opinion would be providing a unified file-ignoring interface for plugins. Switching the context to a plugin would allow managing plugin specific directories, and the Obsidian devs could expose an API call or two (maybe getVisibleFiles() and getHiddenFiles(), or simply adding a parameter to getFiles() which defaults to Visible files). That would alleviate a common issue among plugins, which is not having any way to ignore files. And it prevents the extra complexity of each and every plugin that does, having a different method for doing it.
Current workaround (optional)
Currently, you can add a '.' to the start of the directory name. This solves the main issue for which I've created this request.
But, I think users aren't likely to know that this exists, and it also forced a lot of changes for me personally as everything in my system referencing that directory had to change. And that was just the most recent and egregious offense. I now realize I have a number of other subdirectories that total a few thousand files which I'd like ignored, to speed up obsidian a bit more. But it would be too tedious to change all of them.