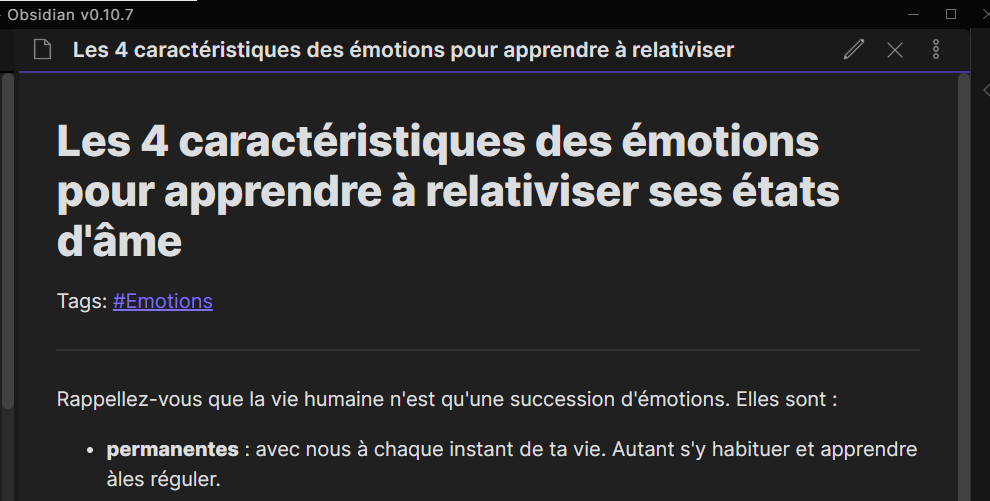 I'm just getting started on Obsedian and the Zettelkasten method. Here is the screenshot of my very first note and the questions I have:
1 - Is it useful to add Tags like I did here? How to choose them or create them so that it doesn't become the bronx and disturb the relevance of the results in the search for notes?
2 - What title to give to your notes: here, you can see that I put the same title for the note as for the headline at the beginning of the note. Is this a good practice? The headline is very readable (and therefore useful) when I reread my notes. It formulates my thought very well, but it may be a bit long for the actual title of the note (the text found in the note search)? Isn't there a way for the headline to be automatically repeated for the note title which is at the same level as the 3 small icons in the top right corner?
3 - Let's imagine that I want to have in all my notes the same structure with 3 parts "Main content", "Examples" and "Connected notes". How can I make sure that my new notes already have this structure? Is it possible to make a template ?
4 - Let's imagine that I create hundreds of notes on psychology, marketing and health: do I have to put them all in the same Vault?
5 - Is it ok to have notes in several languages (English, French, Spanish…) in the same vault?