This is source mode
[[A_20230515132631_B]]
[A_20230515132631_B](A_20230515132631_B.md)
[[文字_20230515132631_文字]]
[文字_20230515132631_文字](文字_20230515132631_文字.md)

This is reading mode,it's wrong.


This is reading mode,it's right.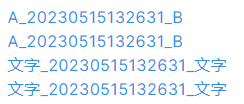 Using [] () this form of a link, if the file name is like the fourth line-----the Chinese characters are next to _, then in the Reading mode, it will be rendered as an oblique body, which is incorrect. but in live preview mode, it's normal.
The _ is the delimiter of the file name. Normally, it should be like the first, second and third lines, and should not be rendered as italics.
Hope to repair this problem,or let the user choose to disable the unnecessary MD syntax. For example, I don't usually use _, I usually use *
_ is useless and produces the above errors