Hi Obsidianers,
I have been using Roam extensively for several months but I am considering switching to Obsidian (to be the owner of my knowledge).
I've been using it in particular for some coding course notes with a heavy use of indented bullet points and code blocks. As an outliner, Roam works quite exclusively like this.
Here is an example of a Roam note (sorry, it's in French but the content doesn't really matter)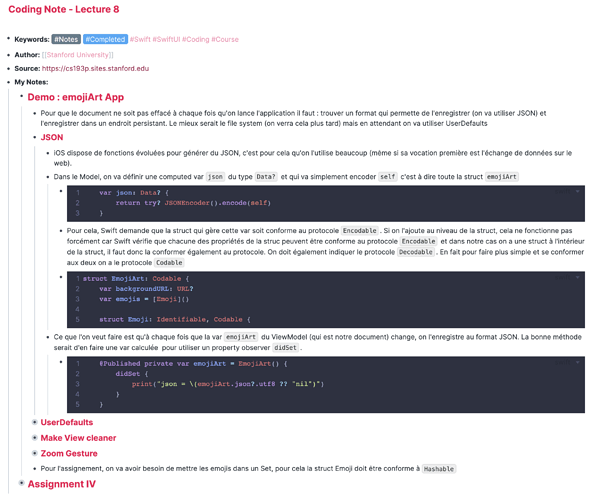 Once exported in Markdown and imported in Roam, here is the result in Edit and Preview modes: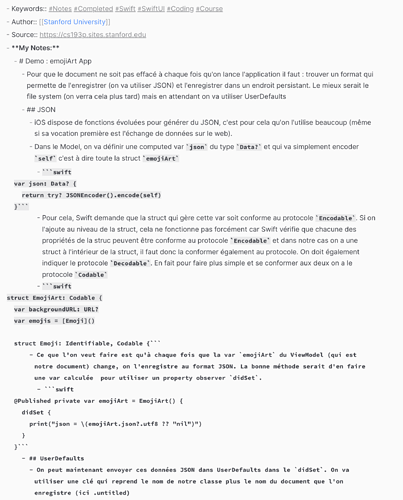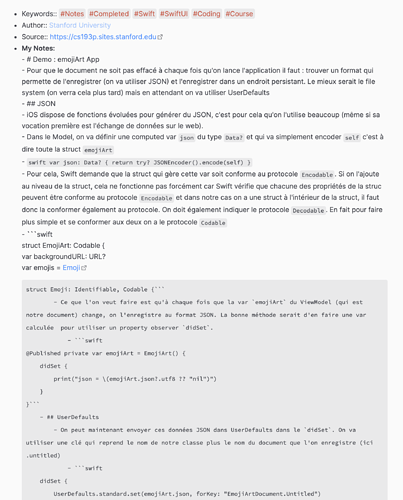 As you can see, several problems make this import unusable without significant rework:
Each paragraph is preceded by a bullet point, including headings which are therefor not recognized.
Code blocsk are not recognized for the same reason.
If I delete the dash behind code blocks, the fact that the final 3 backticks are not on a new line, the block is not rendered properly, including the following paragraphs in it.
Indented paragraphs following code blocks are sometimes not recognized as "standard" text but as code. It occurs if the indentation level is not the same as the code block.
I've tried to manage those problems with a text editor and find/replace patterns to adjust to Obsidian (Markdown) but I have a lot of work to do to adjust each document.
If you came from Roam with a huge database to import, how did you manage to import it without hours of rework. Did you use a tool or a plugin ?
Thank you very much for your help.
Fred