It appears that Obsidian is creating files with non-unicode characters in filenames.
As a result, the filenames which contain non-English characters can get corrupted when the vault is opened on another computer which has a different codepage configured.
Subsequently, the markdown links stop working.
Steps to reproduce
Configure the "Language for non-Unicode applications" in Windows 10 to e.g. Polish (Poland) - system restart will be required.
More info here:
Setting a Language for Non-Unicode Applications | TestLeft Documentation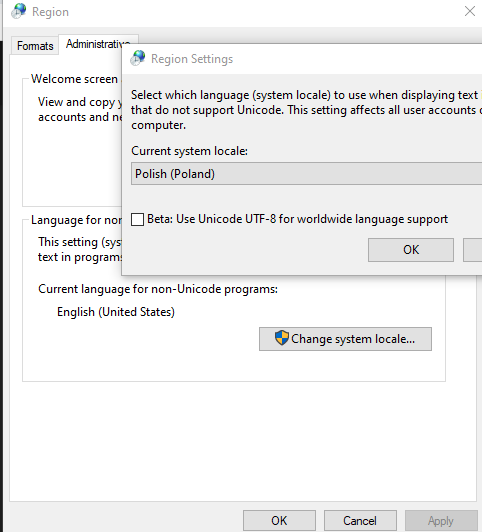 Use a non-English keyboard layout e.g. Polish (Programmers)


Create notes in your vault which contain non-English chartacters in their filenames.
In Polish keyboard layout you could use the following letters with the right Alt key pressed: (A C E S Z L)

Zip your vault using Windows built-in tool "Send to > Compressed (zipped) folder"

Transfer your zipped vault to another computer which has the "Language for non-Unicode applications" set to "English (United States)".
Alternatively, you could use the same computer as in step 1 and modify its codepage (please note another system restart would be required).


Unzip your vault - the filenames (and markdown links) will get corrupted at that point.
Expected result
The filenames should remain unmodified and the links within the vault should continue to be operational.
Actual result
The filenames and links get corrupted.
Environment
Windows 10, Obsidian v.0.13.14 no plugins (safe mode).
---
Additional information
Please find the screenshots below and sample zip file in the attached.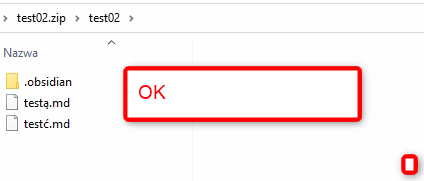 test02.zip (1.8 KB)