I've updated Obsidian with arch linux repository and no problem yet,
From 0.15.8, on every starting the popup shows.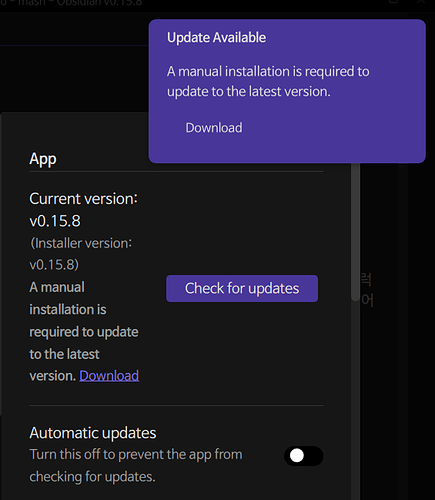 Thanks.
Steps to reproduce
Expected result
no update popup if the version is latest. or, automatic update option not checked.
Actual result
Environment
Operating system: Arch Linux X86_64, 5.18.13-arch1-1
Debug info:
SYSTEM INFO:
Obsidian version: v0.15.8
Installer version: v0.15.8
Operating system:

#1

SMP PREEMPT_DYNAMIC Fri, 22 Jul 2022 13:05:04 +0000 5.18.13-arch1-1
Login status: not logged in
Insider build toggle: off
Live preview: on
Legacy editor: off
Base theme: dark
Community theme: none
Snippets enabled: 0
Restricted mode: off
Plugins installed: 14
Plugins enabled: 10
1: TimeStamper v1.2.0
2: Shortcuts extender v2.2.0
3: Tag Wrangler v0.5.2
4: Editor Syntax Highlight v0.1.3
5: Calendar v1.5.10
6: Linter v1.3.4
7: Minimal Theme Settings v5.3.2
8: Style Settings v0.4.10
9: Text Snippets v0.1.2
10: Advanced Tables v0.17.3
RECOMMENDATIONS:
Update installer: installer version too low, please download from Download - Obsidian and reinstall.
Community plugins: for bugs, please first try updating all your plugins to latest. If still not fixed, please try to make the issue happen in the Sandbox Vault or disable community plugins.
---
Additional information