Steps to reproduce
Mention Page X.
Create link to Page X (i.e. [[Page X]]).
Expected result
Content moves from "Unlinked mentions" to "Links".
Actual result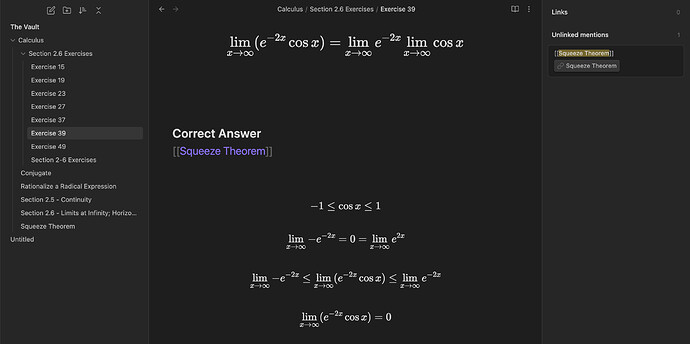 As you can see, even though [[Squeeze Theorem]] is linked, it does not appear as a link. Clicking link just adds more brackets (as in [[[[Squeeze Theorem]]]]).
Environment
Operating system: MacOS Ventura 13.0.1
Debug info: SYSTEM INFO:
Obsidian version: v1.1.9
Installer version: v1.1.9
Operating system: Darwin Kernel Version 22.1.0: Sun Oct 9 20:14:30 PDT 2022; root:xnu-8792.41.9~2/RELEASE_ARM64_T8103 22.1.0
Login status: not logged in
Insider build toggle: off
Live preview: on
Legacy editor: off
Base theme: dark
Community theme: none
Snippets enabled: 0
Restricted mode: off
Plugins installed: 5
Plugins enabled: 5
1: Dataview v0.5.47
2: Latex Suite v1.6.9
3: Desmos v0.6.4
4: Advanced Tables v0.18.1
5: Note Refactor v1.7.1
RECOMMENDATIONS:
Community plugins: for bugs, please first try updating all your plugins to latest. If still not fixed, please try to make the issue happen in the Sandbox Vault or disable community plugins.
---
Additional information