Things I have tried
I use the Day Planner Plugin where I have set up a routine of things I do every day by help of a template. I did this using the workaround described here:
It works nicely for the part of the template being now used for the Day Planner. What I struggle with:
Creating a daily list with items changing depending on week/ weekend or even specific days

Integrating a permanently changing list of tasks without always going into the daily note itself
What I'm trying to do
I want to set up a system in the following way - I tried sketching this visually in the hope of making it easier to understand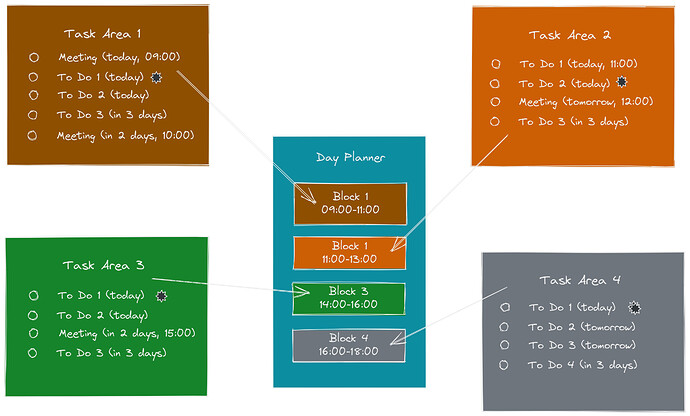 The "Day Planner" in the middle is what I wish to display as a permanent sticky note. It is supposed to be my goto dashboard for tasks
How I imagine it, the Day Planner would work in the form of time blocking. So, there are dedicated time windows for some type of task ( I write better in the morning and late at night than throughout the day, I can only do my workout in some time slots, etc.)
The task areas 1 to 4 are different areas I need to juggle. I would ideally like to keep them in separate lists as at least some of them belong to projects.
I would like to add the tasks to the list connected with the area and then have it displayed in the dedicated time window in my daily note. Displayed means in the form of a task that can be clicked and then vanishes.
Some of these tasks will only vanish for the day, as there are recurring tasks such as running in the morning. Also, some of them will only have to "get done" while others I need to do at a certain time.
I wondered whether this is possible in Obsidian and would be VERY GRATEFUL for any kind of help.
I would like to keep using the Day planner plugin as I like the timetable. I do have a tendency toward the reminder plugin as it allows for the setting of not only date but also time.
(So far), I don't care so much for Kanban, but would be willing to try and use it in case there is some real advantage.
Questions:
Do I need dataview for this? ( I shy away from it because my mind is not trained in things that work like programming or queries)
Can I work with transclusion without cluttering my daily note with too much headers?
Or can I simply achieve this by listing tasks in a clever way without these two approaches?
Does it make sense in my scenario to use the periodic notes plugin to create the Day Planner file? Can I even do that?
How could a solution for a scenario like this look?
Thank you so much for the patience or even looking at this…