Things I have tried
When I launch Obsidian (1.0.0), I see the progress bar and an error "An error occurred while loading Obsidian. TypeError: Cannot read properties of undefined (reading 'on')"

When I click "Reload app" nothing changes
When I open the Developer Console (ctrl-shift-i) and go to console, I see the following error: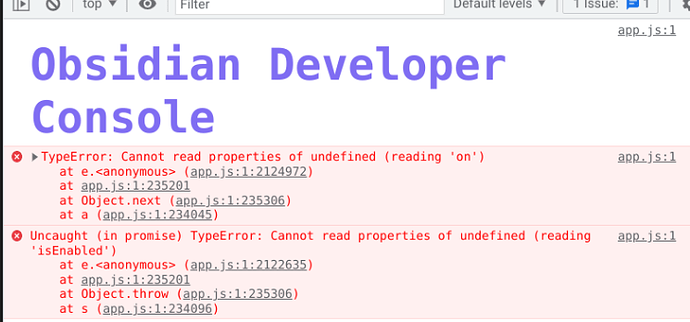 Restarting the computer doesn't seem to help.
I've searched this forum and found one reference to a similar problem that involved a plugin, but this error doesn't seem to point to a specific plugin.
What I'm trying to do
I'm hoping to be able to open my vault without blowing away the install and starting fresh. I have my vault backed up (and synced) so If that is what it takes it will be okay.
Thanks in advance for any help!!