При использовании программы, появляется вот такая картина (скриншот). Не понимаю, в чем дело. Подобной темы на форуме не нашел.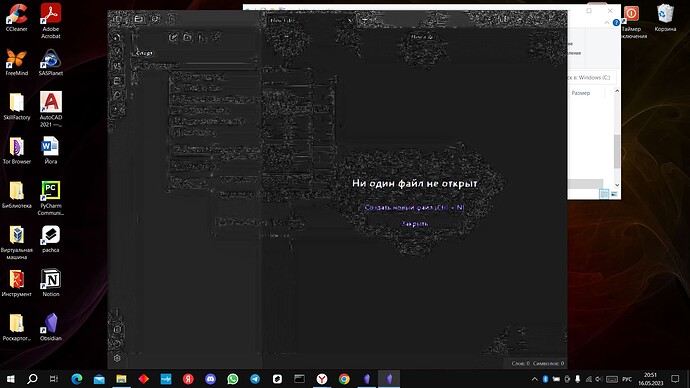 Please post in English or with an English translation. Thanks!

Это экран, когда у вас нет созданных файлов, вам нужно создать файл, нажав Ctrl + N или щелкнув по иконке карандаша

English: That is the screen when you have no created files, you need to create a file by pressing Ctrl + N or clicking the pencil icon

Обратите внимание на отображение программы. В начале все хорошо отображается, а потом, при переключении вкладок, они как-будто начинают наслаиваться друг на друга. Думаю, это какой-то баг, не понимаю в чем дело. Переустанавливал - не помогает.
Pay attention to the program display. At the beginning, everything is displayed well, and then, when switching tabs, they seem to begin to layer on top of each other. I think it's some kind of bug, I don't understand what's going on. Reinstalled - does not help.
Does this happen in the Sandbox as well?
How does is act with Settings > About > Hardware acceleration OFF? I remember seeing some graphics driver issues a bit back for Windows or Linux. You could try searching the forum for those.
Благодарю за помощь! Это помогло. В следующий раз, буду внимательнее искать на форуме, извиняюсь.
This topic was automatically closed 7 days after the last reply. New replies are no longer allowed.