Hello Everyone,
Trying to create a chronological organization of certain notes using the following html / css code Tryit Editor v3.6 . I could not figure out a way to get it to work in an obsidian note so far and wanted help to see whether it was possible or not.
I also tried to create a separate html file and then embed that local html using an iframe in an obsidian note but it did not work. I know there is something related to accessing local files and so on however I also used a solution to that mentioned here around the forum where instead of using "file:///" using "app://" would fix the issue when it comes to src images (which i am currently using).
Any ideas of how I can get this working?
P.S: I saw the other posts on chronological organizations suggesting to use third party websites to create and then embed it into the note however if possible i would like to avoid that.
Thank you for any help / insight!!!
---
Edit 1:
I understand there are other ways to achieve this and would love to know them. One that i had been using so far was through a borderless table (one of the applications of my previous inquiries regarding borderless tables) which would give something close to the desired outcome.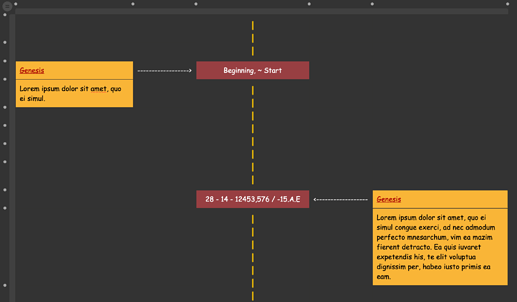 If using html / css does not work i will try to replicate the above work with <\div> grouping to get something similar however I wanted to know whether there are better / cleaner ways.
---
Edit 2:
To better explain what happened when trying to embed the code after creating a local html file:
Using an iFrame with the link copied as is after loading the html into a browser gives an error on the console of Obsidian app.js:1 Not allowed to load local resource:
Modifying the link to use app://local instead of file:/// leads to no error showing up on the console but the iframe remains empty
Placing the html file inside the vault and using the relative link to it instead ./whatever.html leads to a similar result as the second try: empty iframe and no console error.