Things I have tried
Searched google and other engines, searched the obsidian forum.
What I'm trying to do
I would like to use the Obsidian symbol as an emoji. It is perfectly possible to use the symbol as a png image, but then the size has to be resized all the time. Also, I would like to use this as an emoji tag. Using an image will not work.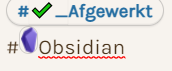 In this example the above tag is the result I want. The other is the result I get pasting a png into the tag. It does not show up in the tag pane.
Thanks for helping and suggestions.